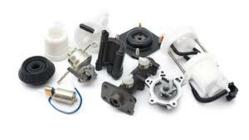 Many of the parts that are in stock are eligible for a no cost extension to provide better coverage when parts are installed.
San Francisco, California (PRWEB) May 05, 2013
BMW is one of the luxury automobiles that are sold and imported to the United States each year. This company produces many of its own parts and can complicate the search process for buyers trying to locate replacement auto parts. The AutoProsUSA.com company has now added BMW used parts to its inventory of available parts. The range of parts for BMW now available are helping to expand the buying option for luxury vehicle owners or those performing the actual parts installation. The current inventory and immediate pricing can be located online at http://autoprosusa.com/bmw-salvage-parts.
The gasoline and diesel engine variants that are produced by BMW has helped to provide more variety to vehicle owners. While dual engine options remain popular, many of the replacement parts that are offered are exclusive to each style of vehicle produced.
This can complicate the process of locating the right part through retailers or distributors. The used parts that are now sold to buyers online represent OEM edition parts that can be fitted inside of gasoline or diesel engine vehicles in the BMW lineup.
The parts that are now for sale to the public online are offered with a level of warranty protection not found through all retailers selling replacement parts. The benchmark warranty of 30 days that some retailers use has been extended at the Auto Pros company. Many of the parts that are in stock are eligible for a no cost extension to provide better coverage when parts are installed. This incentive is one new addition to the company policies this year to help ensure that all buyers receive a generous amount of protection in the form of a no charge warranty.
The preowned BMW parts and other parts in the company inventory can now be searched easier online. The new parts search tool now online is helping to expedite the research process for finding replacement auto parts. This new search system now holds the entire company parts inventory as well as the up to date pricing that is offered.
This new system receives daily updates to provide the most accurate way to search for used, performance, OEM or performance parts in the company inventory online. This search system is able to generate instant quotes to help provide a better resource for buyers deciding to purchase.
About AutoProsUSA.com
The AutoProsUSA.com company provides its complete inventory of auto parts online. This company now discounts past the traditional MSRP pricing listed by many other retailers online. The pricing structures used as well as the acquisition methods in place by this company have helped to build a larger replacement parts buyer network. The AutoProsUSA.com company consistently monitors its company policies to ensure that all buyers receive the incentives and quality that is expected from a parts retailer online. The expedited parts shipments and warranty protection offered help to provide better experiences for parts buying on the Internet.