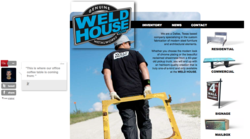 Our goal is to allow anyone to participate in the evolution of online content. We're equipping everyday people with the tools necessary to become active contributors, changing the way content is created, shared and consumed on the Web.
San Francisco, CA (PRWEB) June 23, 2011
News Facts:

Today, BO.LT unveils several new features to help social media users put their "mark" on web pages before inserting them into the online dialogue
With the new features, BO.LT users can add a comment and their own personal "sticker" directly to a copied webpage
BO.LT users can now also create profile pages that link to all their BO.LTed (copied, claimed, remixed and/or shared) pages, building out their online profiles with their favorite content and commentary
When someone puts their BO.LT sticker on a page, anyone who views that (copied) page can easily click through to that person's profile page and content stream, helping people make connections around the content they share
Why Stickers?

When pages are shared through Twitter, Facebook and other social channels, the original comments are often lost through retweeting and reposts of that content. What's more, other social channels can be limited by character constraints.
BO.LT stickers give social commentators more flexibility with their comments, and ensures that social curators get credit and recognition for the pages they share, increasing their influence as readers view more of their contributions
See it in Action

Watch a brief demonstration of the new features: http://bo.lt/87n6h
View screenshots: (attached)
Create your sticker and BO.LT your own pages at http://BO.LT/
What is BO.LT?

The only page sharing service that allows anyone to instantly copy, claim, remix and share web pages
Change text, delete elements, replace images and/or add your personal sticker before creating a sharable link to the page
Launched in San Francisco, Calif., on April 21st, backed by Benchmark Capital with $5 million in funding
Quotes:
Attributable to Mike Walsh, BO.LT user and partner at Daily Secret (http://www.dailysecret.com):
"Since I began sharing articles through BO.LT rather than just a link shortening service, I've seen a significant increase in traffic to my company's website. When I attach my BO.LT sticker to the articles I share on Twitter, it catches people's attention and they click through to my site rather than just reading the content and moving on. What's even better is when my followers Retweet the pages I've BO.LTed, because my sticker stays attached so I'm able to reach an even wider audience."
Attributable to BO.LT co-founder/co-CEO Matt Roche):
"We share links to build connections with our friends and fans and build our reputations. But as the pages we share are passed around, the personal connection evaporates into the fickle and transient world of the Tweet or the Like. These personal connections can be maintained if our voices and our identities are tied to the pages we share."
"When a sticker is applied to a page and links back to the person who shared that page, the sharer is essentially inviting readers to connect with him through that piece of content - building and strengthening social bonds."
"Our goal is to allow anyone to participate in the evolution of online content. We're equipping everyday people with the tools necessary to become active contributors, changing the way content is created, shared and consumed on the Web."
Get Social With BO.LT:
Twitter: @GETBOLT
Facebook: http://www.facebook.com/GETBOLT
Blog: blog.BO.LT
Website: http://BO.LT
###