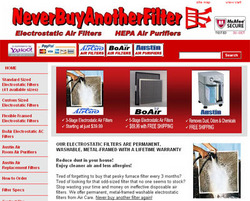 Our buying power and low overhead allow us to offer these top-quality filters at ½ off retail
Benton, TN (PRWEB) November 11, 2008
Asthma and allergy sufferers can stop holding their breaths for affordable permanent air filters and purifiers with the grand opening of online store NeverBuyAnotherFilter.com. The recently debuted e-commerce site boasts BoAir 5 stage filters that effectively clean air for people with asthma and air purifiers from Austin Air that meet the strictest HEPA standards, all at deep discounts.
Entrepreneurs Scott and Jennifer Abbes started an indoor air quality business in 2004, selling electrostatic filters, air purifier units and other indoor air quality products in their home state of Tennessee. The couple was convinced enough of the quality and performance of the products to expand to a national audience with the creation of NeverBuyAnotherFilter.com.
"Our buying power and low overhead allow us to offer these top-quality filters at ½ off retail," explained Scott Abbes, co-owner of NeverBuyAnotherFilter.com. "And we are so confident that customers will be satisfied with the best rated air purifiers and filters, we offer a 100 percent lifetime satisfaction guarantee or your money back."
Anyone can install an air filter from NeverBuyAnotherFilter.com, because the company's customization option means the filters can go anywhere a disposable fiberglass air filter goes, Abbes explained.
"We sell 41 standard size filters and can make custom permanent air filters in any size in 1/8 inch increments," Scott Abbes said. "We sell metal frame and flexible frame filters. Flex frames have the same filtration specs as metal-framed filters but will bend and twist to fit places where metal frames won't."
Instead of buying a new filter every one to three months at up to $12 a pop, a homeowner can replace the old disposable filters with custom permanent air filters throughout the home for a fraction of the annual cost. The average lifetime electrostatic filter cost $39.99 at NeverBuyAnotherFilter.com.
Buyers can easily learn how to clean an air filter by following product instructions provided on the Web site, and cleaning air filters takes only moments longer than replacing disposable ones. With proper care, the filters can last a lifetime.
For individuals interested in doing something positive for the environment, the products are an attractive alternative to standard air conditioner filters. Green product enthusiasts favor the permanent filters, which cut down on the amount of discarded fiberglass, cardboard and aluminum that ends up in the nation's landfills.
For more information about products such as Air Care electrostatic allergy filters and BoAir 5 stage filters, visit NeverBuyAnotherFilter.com.
About NeverBuyAnotherFilter.com:
Tennessee-based NeverBuyAnotherFilter.com sells a range of top-quality indoor air quality products. Products include permanent electrostatic furnace filters from Air Care and BoAir and HEPA air purifiers from Austin Air, washable and custom permanent air filters with aluminum, gold and flexible frames. The company's benchmarks include prices that are ½ off retail, as well as a lifetime product warranty.
###