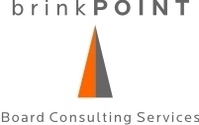 The default explanation for why boards give such short shrift to strategy, which in my view is the organizing force behind a company's success or failure, is that directors themselves are not skilled in strategic thinking
Lincoln, MA (PRWEB) June 9, 2008
BrinkPoint Consulting LLC, a firm providing comprehensive governance consulting services for boards, today announced the publication of its web site commentary which focuses on the fourth of its Top 10 Challenges for Corporate Boards in 2008, Directors as Strategists: Houston We Have a Problem.
Deborah Wallace, Principal at BrinkPoint Consulting, said that it should come as no surprise that greater involvement in company strategy is currently the number one priority for directors. But what does come as a surprise, she continued, is just how little time directors spend actually working on strategy. On average, they report that they spend only 24% of their meeting time working on company strategy.
"The default explanation for why boards give such short shrift to strategy, which in my view is the organizing force behind a company's success or failure, is that directors themselves are not skilled in strategic thinking," said Wallace. "If they are to refine and improve this skill, as is expected of them, the work of becoming more strategic has to be done within the context of real-time discussions and decisions. Otherwise, it remains another bothersome abstraction."
The commentary on Directors as Strategists can be found by clicking here.
About BrinkPoint
BrinkPoint Consulting provides comprehensive consulting services to corporate and non-profit boards. Services include consulting, seminars, and customized research. For more information visit http://www.brinkpointcounsulting.com or call 781-259-0550.
Contact:
Barbara Rudolph
Rudolph Communications, LLC
781-229-1811
bjr @ rudolphcommunications.com
# # #