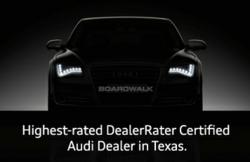 Corstiaan Westerhuis was instrumental in Boardwalk Audi becoming the #1 DealerRater Certified Audi Dealer in Texas.
Dallas, Texas (PRWEB) December 12, 2011
Boardwalk Audi former General Sales Manager, Corstiaan Westerhuis was promoted to General Manager effective September 1, 2011. "Corstiaan has been a key part of the success of our sales department and we are thrilled to promote him to this important position to oversee the entire operation," said Ken Ambrose, Senior Vice President of Boardwalk Auto Group.
Prior to this position, Corstiaan Westerhuis worked in numerous management positions within Boardwalk Audi including Audi Brand Specialist, Internet Manager, New Car Manager, CPO Manager, and General Sales Manager. Prior to his entry to the automotive business, Corstiaan worked as a medic for ten years, after earning his degree from Saddleback College in Pre-hospital Emergency Medicine. Corstiaan is married to Rosemary and they reside in Grapevine, Texas, with their two dogs.
"Corstiaan was instrumental in Boardwalk Audi becoming the #1 DealerRater Certified Audi Dealer in the State of Texas in 2011, along with leading us to be recognized as an Audi Magna Award Recipient," said Ken Ambrose.
About Boardwalk Audi
With its distinctive 42,000 square foot dealership--the largest in the Audi USA dealer portfolio--Boardwalk Audi is committed to interlacing Audi's unparalleled engineering prowess with exceptional service performance. As a member of Boardwalk Auto Group, Boardwalk Audi cultivates a focus on top-flight performance.
About Boardwalk Auto Group
Boardwalk Auto Group is one of the premier auto groups in the nation representing Audi, Ferrari, Lamborghini, Maserati, Porsche, and Volkswagen. Learn more about Boardwalk Auto Group at http://www.BoardwalkAutoGroup.com.
###