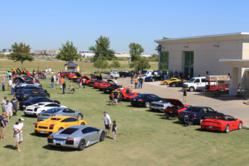 The Spring Concorso was extra special this year as Boardwalk Ferrari unveiled the new Ferrari 458 Spider.
Dallas, Texas (PRWEB) April 17, 2012
Over 500 car enthusiasts attended Boardwalk Auto Group's Spring Concorso held at Boardwalk Ferrari / Maserati on Saturday, April 14, 2012. 62 cars were entered in the contest and 8 winners received trophies, along with autographed helmets and jersey's from the Dallas Stars. All of the Boardwalk highline brands were represented including a new Porsche 911, Lamborghini Performante, Audi R8, and a Maserati GranTurismo. Blue Mesa served lunch and the Dallas Stars Ice Girls were on hand for pictures and helped with the exclusive showing of the new Ferrari 458 Spider.
Brian Ongaro, Vice President of Sales and Marketing for Boardwalk Auto Group said, "The Spring and Fall Concorso are two events that we look forward to hosting every year. We get to bring the North Dallas community together to experience the very best in automotive excellence. The Spring Concorso was extra special this year as Boardwalk Ferrari unveiled the new Ferrari 458 Spider."
Boardwalk Auto Group congratulates the following winners:
1st Place Italian – David & Barb Halpin – Ferrari 458 Italia (w/Graphics Wrap)
2nd Place Italian – Don Patty – Ferrari 328GTB
3rd Place Italian – Will Huber – Ferrari 348TS
Best In Show – Lorenzo Triana – Mercedes Benz 300SL
Most Unique – Brendan Hinds – Audi S5
British Class – Rachel Hardin – Lotus Esprit
German Class – Chuck Lawson – Porsche 356
American Class – Don Seibert – Chevrolet Corvette
About Boardwalk Ferrari / Boardwalk Maserati
Boardwalk Ferrari is committed to the Ferrari performance legacy. With a championship Ferrari Challenge team, rallies, concorso and lifestyle events, Boardwalk provides its clients with Ferrari ownership experiences that are second to none. Boardwalk Maserati is among the largest Maserati boutiques in the Southwest. As a member of Boardwalk Auto Group, they cultivate a focus on top-flight performance.
About Boardwalk Auto Group
Boardwalk Auto Group is one of the premier auto groups in the nation representing Audi, Ferrari, Lamborghini, Maserati, Porsche, and Volkswagen. Learn more about Boardwalk Auto Group at BoardwalkAutoGroup.com.