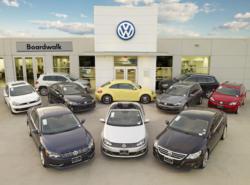 Boardwalk Volkswagen is honored to be named as a DealerRater 2012 Dealer of the Year Finalist.
Dallas, Texas (PRWEB) January 30, 2012
DealerRater, the world's premier car dealer review web site, just unveiled the finalists of the 2012 Dealer of the Year Award Program. Through this award program, 37 manufacturer categories were represented and Boardwalk Volkswagen, located in Richardson, Texas was named as a 2012 Dealer of the Year Finalist.
"As dealers across North America anxiously await final results of the 2012 Awards, we congratulate Boardwalk Volkswagen for their demonstrated success in customer satisfaction," said Chip Grueter, President of DealerRater. "Consumers are increasingly relying on credible, third-party review sites like DealerRater to research prospective dealerships across multiple geographic areas and vehicle brands so as to find the right car dealer committed to quality customer service."
Brian Ongaro, Vice President of Sales and Marketing for Boardwalk Auto Group said, "We are honored to be named as a DealerRater 2012 Dealer of the Year Finalist. We feel that DealerRater has become one of the primary information sources for car buying consumers. More than that though, we embrace the complete unbiased customer feedback and the transparency that DealerRater provides our entire team at Boardwalk Volkswagen."
The winners of the 2012 Dealer of the Year Awards will be announced at the 2012 NADA & ATD Convention and Expo in Las Vegas, Nevada during a press conference on Sunday, February 5, 2012.
About Boardwalk Volkswagen
Boardwalk Volkswagen is the top VW sales performer in the State of Texas serving Dallas, Richardson, Lewisville, Garland, Irving, and Plano. Learn more about Boardwalk Volkswagen at http://www.DallasVW.com.
About Boardwalk Auto Group
Boardwalk Auto Group is one of the premier auto groups in the nation representing Audi, Ferrari, Lamborghini, Maserati, Porsche, and Volkswagen. Learn more about Boardwalk Auto Group at http://www.BoardwalkAutoGroup.com.
About DealerRater®
DealerRater was founded in 2002 as the first car dealer review website worldwide. DealerRater is the world's #1 online resource for anyone seeking third-party information on automobile dealerships. DealerRater features more than 41,000 U.S. and International car dealers, 550,000 user reviews and over 1,000,000 cars for sale. DealerRater attracts more than 5 million consumers every year who visit the site to search for car dealerships, read current reviews, write their own descriptive reviews, and find car deals – all for free. Car dealers are rated on the criteria of customer service, quality of work, friendliness, price and overall experience.
###