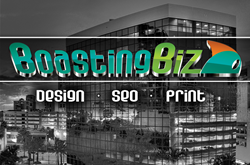 "Who wants to win some free services?"

Donnie Strompf - SEO Specialist at Boasting BiZ
Fort Lauderdale, FL. (PRWEB) May 16, 2012
Based in Fort Lauderdale, Boasting BiZ offers an array of online and print marketing services (logos and graphics, web development, SEO services, print and apparel), and has also built a name for itself as a white hat SEO company (SEO Fort Lauderdale). With professionalism and proficiency, the Boasting BiZ SEO team has helped countless clients achieve higher placement in the most popular search engines, delivering local traffic directly to clients' websites. The company's website features a form where anyone can request a free, dependable SEO quote.
In appreciation to our company members that followed and interacted with our marketing products and services through the years, Boasting BiZ marks its three-year anniversary with a contest that is free of charge and filled with valuable prizes.
The contest prizes include...
Third Place: 2 (two) custom MacBook decals of choice
Second Place: 5-page website (1 unique image per page)
First Place: 10-page Full-custom website (1 unique image and a free SEO analysis) —up to $7,000.00 in value
The contest ends when the 999th quote is received. Upon completion of the contest, Boasting BiZ will choose its winners through a raffle, during which contending names will be shuffled in the Boasting BiZ White Hat. The raffle will be filmed and aired via Twitter, and the three winners will be announced on three social networks: Facebook, Twitter, and Google+. The order of the names will match the order of the prizes (the first name pulled out wins first place; the second name gets second place; the third name wins third place).
Boasting BiZ encourages participants to enter the contest by following these three simple steps:
1. Fill out the free SEO Quote form on the website and receive a unique Promo Code
2. LIKE the company's Facebook page and enter the Promo Code
3. SHARE the contest with Facebook friends.
Participants are also encouraged to repost the contest on their Facebook walls and retweet them on Twitter. The sooner the 999th quote is received, the sooner the results of the contest will be announced.
Boasting BiZ has been an SEO Fort Lauderdale white hat company since 2009.