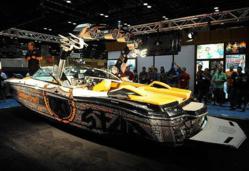 The Portland Boat Show is a perfect time to show off our high quality boats, and a great time for customers to get some amazing deals
(PRWEB) January 11, 2012
Locally-owned Portland Ski Boat Center will proudly unveil the 2012 Mastercraft and MB Sport Boat Line at the Portland Boat show this week. Last year, MB Sports made the decision to team up with Portland Ski Boat Center and selected the dealer to become the exclusive MB Sport Boat retailer for all of Oregon and SW Washington. Portland Ski Boats will have both Mastercraft boats and MB Sport Boats available for Boat Show visitors to see.
The 52nd Annual Portland Boat Show opens this Wednesday January 11th at the Portland Expo Center. The show promises to be "5 days of boating excitement" with longer hours and plenty to offer boaters and water sport enthusiast of all kinds.
Portland Ski Boat Center is returning to the 2012 Portland Boat Show looking forward to a fantastic year. "We look forward the the Boat Show every year and we are thrilled about the Mastercraft and MB Sports line that we will be unveiling this week," said Mark Lawhead, owner of Portland Ski Boats. "The Boat show is a perfect time to show off our high quality boats and a great time for customers to get some amazing deals -- If are looking to find a large selection of boats at the right price come on down and visit us at the Portland Boat Show," added Lawhead.
Portland Ski Boats has been one of the nation's premier MasterCraft dealerships for over a decade. MB Sports also chose the family owned and operated, Portland Ski Boat Center to be their sole retailer for the state of Oregon. In addition to these boat lines, the Ski Boat Center has an array of pre-owned boats and a large selection of water-ski, boating, and wakeboard gear.
"We pride ourselves in going above and beyond when it comes to providing a memorable experience for our customers," said Lawhead, "If folks have not had the chance to visit us at the dealership, the Boat Show is a really great time to come down on meet us -- its really a fun event for the whole family."
The Portland Boat Show is open from 10:00 a.m. to 9:00 p.m. Wednesday the 11th to Saturday the 14th and 10:00 to 6:00 p.m. on Sunday the 15th.
###