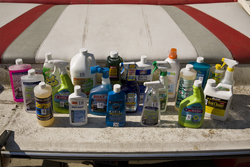 In our lab tests, a few 'green' labeled products appeared to be among the most harmful products tested, and some conventional products were far less toxic than suspected, yet made no environmental claims on the packaging
Annapolis, MD (Vocus) September 11, 2009
A quick scan of boat cleaning product labels at your local boating supply reveals a daunting array of words, including non-toxic, biodegradable, environmentally smart, and phosphate-free. But do so-called "environmentally-friendly" boat cleaners get the job done or are boaters simply getting "greenwashed"?
The non-profit BoatU.S. Foundation for Boating Safety and Clean Water recently laboratory tested 20 boat cleaners for their toxicity as well as how quickly they biodegraded. They also completed real-world tests to gauge performance. "In our lab tests, a few 'green' labeled products appeared to be among the most harmful products tested, and some conventional products were far less toxic than suspected, yet made no environmental claims on the packaging," said BoatU.S. Foundation Director of Environmental Programs Susan Shingledecker. "Overall, we found that choosing a 'green' cleaner based on its label is challenging," she added.
Another finding definitively put an end to a misperception amongst some boaters that "green" cleaners may not be as effective as conventional cleaners. "Some of the 'green' products actually outperformed conventional cleaners," added Shingledecker.
Tests revealed that the best cleaners for the environment were found to biodegrade in as little as two weeks. "Biodegradability is more important than its initial toxicity. Cleaners that break down slowly have a greater impact on aquatic life over time," added Shingledecker.
To find out which products scored the highest in all tests, you can view a series of short videos as well as a full report, "Foundation Findings #47 - Green Cleaners Testing," at http://www.BoatUS.com/foundation/Findings/47 .
The Foundation also advises that how boat cleaners are utilized -- such as the frequency of use and recommended concentration -- is as important to the environment as selecting the right product. Here are three environmentally friendly tips to remember when cleaning your boat:

Periodic fresh water rinsing of your boat will prevent dirt and debris from accumulating, lessening the need for boat cleaners.
If a product is to be diluted with water, pay heed to the manufacturer's directions for use. Real world tests showed that increasing the product-to-water ratio did not improve performance.
Use a general boat soap for an overall cleaning, and on tough stains sparingly employ sprays or paste spot cleaners, using a towel to minimize run-off. Regardless of "green" claims, more concentrated spray or paste products were found significantly more toxic than a general boat soap diluted with water.
Founded in 1981, the BoatU.S. Foundation for Boating Safety and Clean Water is a national 501(c)(3) nonprofit education and research organization primarily funded by the voluntary contributions of the 600,000 members of BoatU.S. It excels in providing safe, smart and clean boating resources for boat owners nationwide.
###