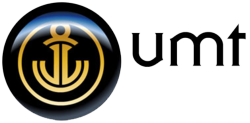 Fort Lauderdale, FL (PRWEB) May 31, 2012
Last week, 180 industry professionals involved in the superyacht industry gathered in the home of the American marine industry, Fort Lauderdale, for the 10th anniversary of the American Superyacht Forum. This important meeting culminated in leading discussion from expert speakers, audience debate, technical innovations and a gathering of valuable contacts over three days of social networking events.
UMT International discussed their signature line of carbon fiber boarding stairs, davit and chocks as well as their service division as a guest speaker during the Technical Innovation Presentations.
The UMT International carbon fiber boarding stairs were re-designed for 2013 with additional stability and durability. These lightweight boarding stairs offer the advantage of durability and stability, but with less than half the weight of standard aluminum boarding stairs. The composite boarding stairs, because they are so light, allow for the stairs to be easily detached from the hull and placed on board and stowed.
This year, UMT introduced the new LG Davit line with telescoping hydraulic systems. The LG Davits are available with 1200 and 1500lb capacities with custom color and graphics options. The LG davit is available with hydraulic retractable boom cable and hydraulic rotation.
The UMT Service Team is comprised of a fleet of mobile trucks based in Fort Lauderdale and this division carries out installations and service of chocks, boarding stairs, railings and repairs on-board visiting yachts. UMT works on fittings of every type and description and UMT International's primary focus in South Florida is assisting visiting yachts that require service on davits and lifting systems where time is of the essence.
About UMT International:
UMT International is a leading marine manufacturer of yacht davits & cranes, chocks/cradles, boarding equipment, stainless steel marine accessories and custom metal fabrication for the marine industry. Captains, yacht owners, marinas and yards as well as yacht manufacturers have trusted UMT International for over 20 years with their marine product needs. European craftsmanship, innovative design and superior service have made UMT International a leading resource to the marine industry.