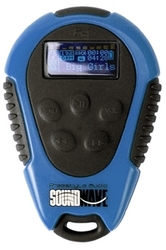 the toy of the Valentine season
Tampa, FL (Vocus) February 3, 2010
Marinemart Boating Accessories introduces its new line of recreational electronics with the Freestyle Audio Waterproof MP3 Player with Screen. A new realization is sweeping music lovers the world over: common MP3 players may last in air conditioned underground bunkers with cushioned floors and walls, but for normally active human beings, they need something much more durable.
Without question, a waterproof and shock resistant MP3 player is "the toy of the Valentine season". They are such the rage in 2010 that they were out of stock but have been recently replaced. Anyone can just click on Freestyle Audio Waterproof MP3 Player with Screen and Marinemart Boating Accessories will get you this hot new device in sequence as soon as possible before they sell out again.
MP3 players have arguably become the number one 21st century personal entertainment device because they're small, portable, and easy to use with a large memory. With this waterproof MP3 player, listeners can have the same great player with a 2 GB flash memory but not be afraid to take it camping, on a boat, to the beach, or anywhere else exposed to weather or moisture. And for those tired of skipping audio during a jog, on a bumpy car ride, or at 36,000 feet in choppy air, the shock-resistant design lets listeners think they're gliding on ice.
Remember, it's not just water-resistant, it's waterproof, can be used with supplied waterproof earbuds (or your favorite headphones), and is submersible up to 10 feet. It supports MP3, WMA, and WMA(DRM) files and is compatible with subscription music services. There's an easy-to-read OLED screen, equalizer presets, FM tuner with channel presets, and is compatible with both PCs and MACs. The rechargeable battery allows up to 15 hours play time per charge. The Freestyle Audio Waterproof MP3 Player with Screen is lightweight and even floats.
Go to Marinemart and readers can give a Valentine gift that will last and entertain into the distant future. Currently this product retails at only $89.99.
Marinemart Boating Accessories originated from the heart and soul of boating enthusiasts in mid 2009. Based out of Tampa, Florida, and with the support of an international technology company, Marinemart.com seeks a new standard as an on-line marketplace. The excitement is viral once people get to know Marinemart. The Marinemart experience simply offers higher value at a price comparable to traditional boat supply outlets. Don't spend hours surfing the web for an item offered by some fly-by-night vendor. Log on and be part of the most expansive boating accessories venue. Relax, it's Marinemart.
For more information about the brand new Waterbuoy or MarineMart, LLC, visit http://www.marinemart.com.
###