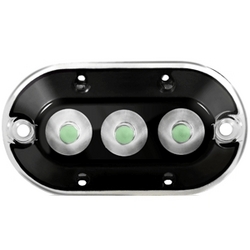 Tampa, FL (Vocus) February 24, 2010
Marinemart Boating Accessories, after searching for the best types of underwater lighting systems available, is pleased to announce their business relationship with OceanLED, the leading manufacturer and designer of LED underwater lighting products. Boaters simply need to go to Marinemart.com to acquire the OceanLED Amphibian Series, the world's first lighting collection designed to be used both in and out of the water.
More specifically, and for the crème de la crème, the Amphibian 3 (A3) is a small 3" x 1" powerful underwater light perfectly designed for pleasure craft up to 23 feet. It's simply the next must-have accessory for all boating enthusiasts.
The multipurpose A3 underwater/overwater light is injection molded with a unique linear shape and is versatile enough to be mounted onto any transom by using just a quarter-inch hole for cable entry. The entire Amphibian Range is ridiculously easy to install and can be used on a variety of surfaces such as trim tabs, engine brackets, or even on boat trailers for night launches.
The A3 engineering is remarkable because it's powerful without using a lot of power. While drawing only 3 Watts, it provides the equivalent light output of a halogen underwater light. The typical advantage with LED lights is their long life and the A3 is no exception by offering 40,000 hours of use before a replacement is needed. Even better, maintenance during those 40,000 hours is of no concern due in large part to the high-tech polymer which houses the injection-molded light. Equally impressive, OceanLED's Tritonium glass from Optical Technologies (a research laboratory specializing in optical systems) prevents scratching, darkening, and barnacle build-up that other polycarbonate underwater lights allow.
Most importantly, Marinemart Boating Supplies continues to honor current economic conditions by reducing the OceanLED Amphibian A3 Underwater Light to the bottom basement price of $179.00. Creating a safer midnight ride, a more pleasant evening entertainment experience afloat, and a more fruitful late night fishing adventure are all now easily attainable at Marinemart Boating Accessories.
Marinemart Boating Accessories originated from the heart and soul of boating enthusiasts in mid 2009. Based out of Tampa, Florida, and with the support of an international technology company, Marinemart.com seeks a new standard as an on-line marketplace. The excitement is viral once people get to know Marinemart. Introducing brand new items to America, like the brand new Fastfender, is a perfect example. The Marinemart experience simply offers higher value at a price comparable to traditional boat supply outlets. Don't spend hours surfing the web for an item offered by some fly-by-night vendor. Log on and be part of the most expansive boating accessories venue. Relax, it's Marinemart.
For more information about MarineMart, LLC, visit http://www.marinemart.com
# # #