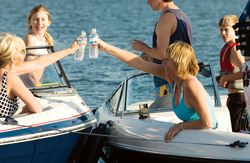 We anticipate Americans cutting down on out-of-town vacations this summer but still looking for ways to afford the activities and hobbies they love - for those who love the water we want to make sure they know how to access the boating lifestyle at all price points
Chicago, IL (PRWEB) May 18, 2009
As Memorial Day approaches - one of the most popular boating weekends of the year - the recreational boating industry trade group, National Marine Manufacturers Association (NMMA), reports there were an estimated 70 million Americans who went boating in 2008.
What's more, DiscoverBoating.com, the boating industry's online boating resource, today reported the results from a summer boating habits survey conducted in May of 25,000 members of the nation's largest boat owners group, BoatU.S. The survey reveals that when compared to the 2008 boating season, 52 percent of respondents do not expect to change the way they use their boat this summer and an additional 39 percent predict they will actually go boating more if gas prices continue to remain lower than 2008.
With gas prices currently hovering around $2.50 per gallon, much lower than last year's nearly $4 per gallon, the industry expects this summer to be one of the busiest with boaters taking to the water in record numbers to de-stress and look for ways to vacation closer to home.
The survey also found that more than two-thirds, nearly 70 percent, of respondents said spending time on the water plays a significant role in bringing their families together. For landlubbers without a boat of their own, DiscoverBoating.com is providing affordable tips on how to try out the boating lifestyle and begin creating lasting memories with friends and family.
"We anticipate Americans cutting down on out-of-town vacations this summer but still looking for ways to afford the activities and hobbies they love - for those who love the water we want to make sure they know how to access the boating lifestyle at all price points," says Ellen Hopkins, spokeswoman for Discover Boating. "As the 70 million Americans who went boating last year can attest, being on the water can be a great way to soak in the summer weather, spend time with your family and friends and enjoy a vacation close to home."
This summer, whether you're looking to get your feet wet or head down the path to boat ownership, DiscoverBoating.com has on-the-water options to float your boat:
Rent or Charter. Boat rentals come in a variety of forms, from hourly and daily rentals to weeks-long charters. Renting is a helpful way to compare boat types and explore local waterways from a new vantage point. Multi-day chartering may help save on trip expenses such as food, lodging and activities, which can often be negotiated into the overall cost of a chartering package.
Share Time and Costs. Fractional boat ownership, similar to lodging timeshares, are cost-effective ways to use well-appointed boats and distribute costs related to fueling, pump-out, maintenance, and insurance among you and a group of friends or other local timeshare boaters. Members pre-schedule use of the boat online and often get the added benefit of lessons, flotillas and additional crew, if needed.
Join a Club. Local boating clubs and organizations allow inexperienced boaters the chance to test the waters through lessons, regattas and events. Clubs provide members with access to a variety of boat types, interaction with fellow boaters and events for all skill levels for an annual or monthly fee.
Test the Waters. Visit a local boat dealer as they can help narrow down choices, suggest options to best fit a budget and take interested boaters out for a test drive to experience how the boat performs. Similar to shopping for a car, test driving several boat types will help even the most experienced boater make a selection that works best for their budget and lifestyle.
For more boating tips, resources and information, visit DiscoverBoating.com.
About DiscoverBoating.com
DiscoverBoating.com is a national awareness campaign developed by the North American recreational boating industry and managed by the industry's trade group, the National Marine Manufacturers Association (NMMA.org). DiscoverBoating.com programs focus on improving the boating experience and building interest in recreational boating by providing a resource for Americans to explore the benefits, affordability and accessibility of the boating lifestyle. To find out more, visit DiscoverBoating.com.
###