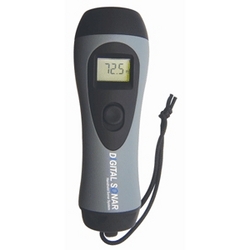 Tampa, FL (Vocus) December 16, 2009
Marinemart Boating Accessories has found an emergency reserve depth sounder and a travel sonar system all in one with the Norcross DF2200PX. This portable sonar system not only performs the critical navigation function of determining underwater drop-offs and ledges, but finds fish and determines exact water temperatures too.
For only $89.99, boaters can have all of the information a mounted sonar system provides but with the ability to get that information anywhere a person can go. Depth readings from 2.5 feet to 199 feet at four times per second, water and air temperatures within 1/10th of a degree, and locating sneaky fish under weeds, lily pads, or even docks are all possible with the DF2200PX.
Marinemart knows every device claims to be the latest and greatest, but because of the SideScan Fish Detecting Sonar and ShootThru Technology, the Norcross DF2200PX lives up to the claim. It's 60% more powerful allowing readings through ice or boat hulls, pinpoints fish due to algorithmic programming that prevents false readings, and can even be used at night because of the SoftGlow backlit LCD display. As one might guess based on all of this engineering, it's CE approved.
Besides the modern technology, Marinemart Boating Supplies also recognizes that this digital sonar is convenient, rugged, and user friendly. A secure battery compartment for 4x'AA' batteries allows 30 hours of continuous use. There's a high-impact, sure-grip rubberized housing and a waterproof, maintenance-free button. A wrist strap exists for easy carry. The DF2200PX Portable Sonar System also floats. Yet, despite all of the safeguards, the DF2200PX includes a two year warranty as additional peace-of-mind for the customer.
Simply put, if a human being can be there, a sonar system can be there too. Don't leave solid ground without the Norcross DF2200PX Digital Sonar System available now at Marinemart Boating Accessories.
Marinemart Boating Supplies originated from the heart and soul of boating enthusiasts in mid 2009. Based out of Tampa, Florida, and with the support of an international technology company, Marinemart.com seeks a new standard as an on-line marketplace. The excitement is viral once people get to know Marinemart. Introducing brand new items to America, like the brand new Waterbuoy, is a perfect example. The Marinemart experience simply offers higher value at a price comparable to traditional boat supply outlets. Don't spend hours surfing the web for an item offered by some fly-by-night vendor. Log on and be part of the most expansive boating accessories venue. Relax, it's Marinemart.
For more information about the brand new Waterbuoy or MarineMart, LLC, visit marinemart.com.
# # #