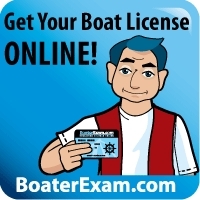 Whatever the state requirement is, we still encourage every single boat operator to take a boating safety course
(Vocus) May 21, 2010
The unofficial kick-off to boating season is National Safe Boating Week, from May 22nd to May 28th, 2010, and many boaters are unaware that they might require a boating license to operate a boat on state waters. BoaterExam.com reminds everyone to check their state's boating license requirements to avoid hefty fines.
The BoaterExam online boating safety course is fully narrated and features over 150 animated videos covering a wide range of safe boating topics. Approved by the National Association of State Boating Law Administrators (NASBLA) and recognized by the U.S. Coast Guard, the boater safety course has also been approved by nearly 40 state agencies responsible for boating safety education.
Kerry Moher, VP of Business Development, BoaterExam.com, reminds boaters that laws can change from one year to the next. "People need to realize that they might need a boating license this year, even if that wasn't the case last year. There are several states that have new boating safety laws for 2010, and some states have been phasing in boater safety education over the past few years, adding a new age group each boating season."
As of this year, for example, New Jersey and Oregon require all boat operators to carry a boating license or boater education card, with certain conditions on engine horsepower. Virginia and Washington State are in the process of phasing in mandatory boater safety for everyone over the next several years. Boaters can consult BoaterExam.com to find out more about their state's boating safety laws.
"Whatever the state requirement is, we still encourage every single boat operator to take a boating safety course" says Moher, "the animated study guide is free and teaches some very important safety topics that all boaters should know."
Boating licenses are issued upon completion of the online exam, are good for life, do not need to be renewed and cannot be revoked. The BoaterExam course has a one-time fee ranging between $29.95 and $39.95, paid after passing the online exam. A boating safety certification can also help save on marine insurance premiums.
As part of the company's commitment to continuing education, BoaterExam also offers a free course on the Safe Boating Rules of the Road that focuses on navigation rules when operating powerboats in different environments.
# # #