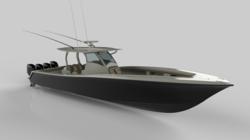 This year we're displaying our boats directly inside the convention center, as this ensures that our customers have a pleasant browsing and shopping experience, unencumbered by any weather concerns, and all in the comfort of an air-conditioned environment
Key Largo, Florida (PRWEB) October 18, 2012
Boats Direct USA announces that they will once again be attending the Fort Lauderdale Boat Show, from Friday, October 25 through Monday, October 29, 2012. The show, which is hosted at the Greater Fort Lauderdale-Broward County Convention Center located at 1950 Eisenhower Boulevard, Fort Lauderdale, will be open to the public from 10.00 am to 7.00 pm.
Boats Direct USA will be displaying some of their manufacturers latest models at their own booths, 2034 and 2035. This large display area allows them to showcase two new Black Water 36' center console models, one of the most outstanding fishing boats in its class as well as the artist renderings of the brand new 43' center console model available exclusively through Boats Direct USA. They will be taking orders for the new 43' Black Water that is extremely well priced and the epitome of handcrafted perfection.
Statement Marine will be featuring two brand new custom center consoles. Statement is known for dominating the go-fast market which makes them extremely capable of combining speed and luxury into the comfort of a custom center console! They'll proudly be showcasing the 368 SUV and 34 Open center consoles.
If Contender is one of your favorites, and you live in Monroe County, stop by the Contender booth to chat with one of the Boats Direct USA representatives. Boats Direct USA is the Monroe County factory outlet for Contender boats.
"This year we're displaying our boats directly inside the convention center, as this ensures that our customers have a pleasant browsing and shopping experience, unencumbered by any weather concerns, and all in the comfort of an air-conditioned environment." says Monique Hausheer, spokeswoman for Boats Direct USA.
Boats Direct USA looks forward to seeing everyone at this year's Fort Lauderdale Boat Show, welcoming back existing customers, and meeting new boating aficionados.
Boats Direct USA is one of South Florida's biggest new and used boat vendors, with a wide selection of boats from 16 feet to over 40 feet, from fishing boats to high performance boats. Planning on going to the Fort Lauderdale Boat Show? Get the latest information on all the fun and events happening at the Boats Direct USA booth, visit the blog at http://blog.boatsdirectusa.com/