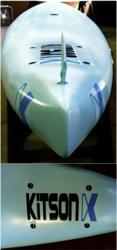 Kitson Boards Washington state's South Sound area for a year now. The company has always chosen to participate in local events when and where possible
Olympia, Wash. (PRWEB) May 17, 2013
On Saturday May 18th, downtown Olympia's famous Boatswap and Chowder Challenge event, which has taken a break the past few years, is making a comeback and Kitson Boards will be there to help the relaunch.
Kitson Boards Inc., the only carbon fiber paddle board and surfboard manufacturer in the USA, has been a community staple in Washington state's South Sound area for a year now. The company has always chosen to participate in local events when and where possible.
Kitson Boards Inc., which already has plans to make the Swantown Marina its home when it relocates to the larger waterfront office space, has already been a part of various Port events, including its annual Christmas party in 2012.
"The port has been a great partner," said Kitson Boards President, Michael Kitson. "We love to return the favor by showing them our support any time we can."
Kitson Boards, Inc. is the sister company of AmazingUniverse.com Inc. which is responsible for Wine Rack Store.com and was founded by Michael and Denise Kitson. The Kitson Boards, Inc. headquarters is located in Olympia, WA. All boards are crafted out of the ultra durable and long lasting carbon fiber material. All production of surfboards, paddle boards and wakesurf boards, as well as the people behind the brand are based in North America and is the only board producer to do so. Kitson Boards prides itself on outstanding customer service and only the finest in recreational boarding and accessories. Free shipping is available throughout the continental USA.