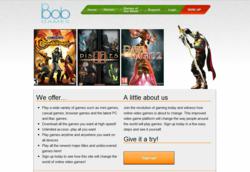 Denver, Colorado (PRWEB) May 20, 2012
Bob-Game.com plans to rewrite history this May by offering thousands of games across mobile and PC platforms to users around the world. Bob-Game.com has license deals to over 1600 top PC and mobile games and offers its members a very simple and quick way to access all the games with an inexpensive monthly subscription. With this website, you can simply click on the games you wish to play on your computer or your mobile device such as tablet or smartphone, and your games will immediately start! You won't need to take your credit card out every time you want to buy a game. Bob-Game.com makes downloading and playing games extremely simple to allow members to enjoy the site without any hassle.
Every week, members can expect new games rolling out from Bob-Game.com as they work closely with top game publishers to ensure that they get the best games out there. Bob-Game.com's monthly service offers all a wide range of game category such as shooter, RPG, action, fantasy and even learning. To play the games, the members simply need to install a small software that manage all the game downloads and sync it to all the user's devices and computers.
For more information, please contact them at pr(at)LetsPlayVentures.com.
LetsPlayVentures (LetsPlayVentures.com) is the owner of Bob-Game.com. LetsPlayVentures is an online multimedia and entertainment company focused in the distribution and sales of online video games. Aside from Bob-Game.com, LetsPlayVentures.com has several game related projects in the pipeline. To contact LetsPlayVentures, please email them at pr(at)LetsPlayVentures(dot)com or visit http://www.LetsPlayVentures.com