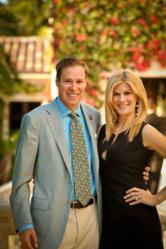 Our goal is to make available resources and solutions that will transform lives - Bob Matthews
Palm Beach, Florida (PRWEB) April 18, 2013
Bob and Mia Matthews opened their Palm Beach Island home to host the Chairman's Club, the Community Partnership Group's second annual fundraiser to benefit the Parent-Child Center. Guests gathered to hear the story of Ms. Istria Duran, who shared her personal testimony of how the Parent-Child Center's Triple P program helped change her life and that of her young daughter. A year ago she was in danger of losing her daughter, was homeless, and in need of intervention. Today she is successfully housed, enrolled in state college, and is enjoying a very positive relationship with her daughter.
While champagne was poured and hors d'oeuvres were served poolside at the Matthews' island residence, the night also honored Ms. Diana Stanley as a collaborative partner and community hero for her courageous and visionary leadership in bringing positive change to the community. President and CEO Patrick McNamara spoke of Ms. Stanley's contribution and recognized her impact in helping care for the community's most vulnerable children and families.
The Community Partnership Group manages Housing Partnership and Parent-Child Center, nonprofit organizations serving Palm Beach County for over thirty years. Their mission is to partner with communities to passionately promote the social and economic well-being of at-risk children and families. It is also Palm Beach County's largest provider of services to children and their families dealing with issues related to abuse, neglect and trauma. More information can be found at http://www.GoCPG.org.
"We don't just want to raise awareness of at-risk children and families," stated host Bob Matthews, "we want to make available resources and solutions that will transform lives." Bob and Mia are the founders of the Robert V. Matthews Foundation, an organization dedicated to raising and donating funds to local charities and programs. "Giving locally allows for real change, right in our own backyard." Echoes hostess Mia Matthews. While the Foundation focuses on local children and family related needs, it also hosts a website with information on local causes and links charitable and non-profit websites.
Bob and Mia Matthews live on Palm Beach, Florida with their children. Bob Matthews is the Chairman of Matthews Ventures Holdings, LLC. , a diversified holdings company with interests in interests in real estate, hotels, software, manufacturing and construction. The company also provides funding for start- up businesses as well as the acquisition of existing business in various market segments. The Partners in Compassion monthly giving program is currently underway and accepting contributions. http://www.GoCPG.org
For Additional information Contact:
Fat Brain Interactive
press (at) fatbraininteractive.com
http://fatbraininteractive.com