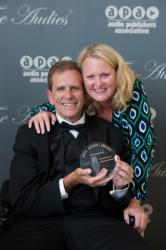 Presenting this award allowed us to say thank you for giving us amazing audiobooks but more importantly, it gave us a chance to say thank you for allowing us into their lives
Los Angeles, CA (PRWEB) June 10, 2013
Bob Deyan has been incredibly successful in the publishing industry. For more than two decades, Bob and his California-based company Deyan Audio have been a vital part of the industry, providing audiobook production services to more than 30 publishers, including some of the worlds most recognized publishing powerhouses. Ask celebrities such as Bill Cosby, Richard Dreyfuss, Dudley Moore, Henry Winkler, Debbie Reynolds and Craig Ferguson and they will tell you, he's the best in the business. As the company tagline says, Deyan is "the publisher's choice." His work has attained him dozens of industry awards, including four Grammy awards, 11 Grammy nominations and most recently, a special lifetime achievement award from the Audio Publishers Association.
While his record-breaking career was thriving, Bob was having a noticeable problem with his foot – walking was becoming difficult. After several visits to various neurologists, Bob and his wife Debra of 20-plus years received the devastating news that he had ALS, or amyotrophic lateral sclerosis – the same motor neuron disease that claimed the life of its namesake and baseball legend, Lou Gehrig, at 37 years old. ALS afflicts approximately 5,600 patients each year. Much about the disease is still unknown and there is no cure.
On the heels of the devastating ALS diagnosis, Bob received the humbling news that his peers were presenting him with a special lifetime achievement award. This past weekend in New York City, Bob and Debra took the stage at The New York Historical Society in front of more than 500 industry professionals including authors, narrators and publishers to accept the Audio Publisher's Association's Lifetime Achievement Award. The award was presented at the same time as the association's Audie awards, often referred to as the "Oscars of spoken word entertainment."
"Bob's ovation was the longest I have ever witnessed, a true testament to the impact he has made on this industry," recalls Michele Cobb, the association's president. "Presenting this award allowed us to say thank you for giving us amazing audiobooks but more importantly, it gave us a chance to say thank you for allowing us into their lives."
It is estimated that Bob's company has worked on more than 12,000 titles over 20 years. Bob and Debra are hopeful that they will make as much of a positive impact in the world of ALS as they have in the publishing industry. They are determined not to let the odds keep them down and are actively connecting with professionals in the ALS field and are researching the most advanced and promising clinical trials underway. Even with the grim diagnosis, Bob continues to inspire everyone around him and remains hopeful about the future.
Bob and Debra Deyan currently live in Tarzana, California.