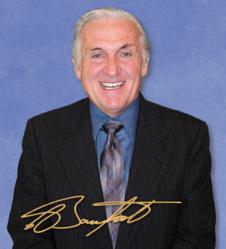 The King of Calcium
Destin, FL (PRWEB) January 27, 2012
Robert Barefoot, a chemist, scientist, world-recognized author and authority on nutrition and alternative medicine will be the keynote speaker and focus of the "Barefoot on the Beach 2012" Health Expo held on March 2-4, 2012. Bob Barefoot is known for his break-through and often controversial research which has led to uncovering the world's most effective health supplements.
Scientific evidence provided by some of the world's most renowned scientists is tied together into one cohesive scientific argument that demonstrates that nutritional deficiency is not only the cause of degenerative disease but by correcting the deficiency, these diseases can both be prevented and reversed. This event centers on promoting proper nutrition and a balanced, healthy lifestyle.
In this weekend long experience, guests are invited to interact with Bob in a more intimate, relaxed atmosphere while relishing in the paradise-like setting. "As the star of the most successful infomercial in television history, Bob is rightfully a celebrity and is normally speaking to crowds of hundreds or thousands of people" says Brad Riley, owner of BarefootAndHealthy.com and chief event sponsor. "The goal of this event is to allow guests to interact with Bob in a smaller, more exclusive setting." Bob Barefoot feels that the peaceful, serene setting of one of Florida's best kept secrets will be the perfect backdrop to reveal the importance of nutrition and to soak up the plentiful vitamin D that Florida has to offer.
Well known Hollywood actor and close personal friend of Bob, Kim Estes will host the event and activities which will be held March 2, 3 & 4. The event reception will be Friday night with a private dinner for VIP and Platinum guests, and Saturday night will be an exclusive dinner for Platinum guests only (limited to 10 people) where participants are presented with the rare opportunity to interact with Bob and learn directly from him.
Sessions will begin Saturday morning at a relaxed pace and continue through Sunday. Bob's goal is to cure America. "Modern medicine seems to be unaware that the human body can cure itself of all disease if given the proper nutrition" says Bob. "In this event, I want to show guests that pain; suffering and premature death can be easily eliminated with supporting scientific evidence and previously unrevealed case studies."
Riley concludes that the weekend will be filled with personal interaction and health information from Bob, and that the schedule is tailored for health and relaxation with plenty of free time to enjoy the resort's amenities and the peaceful environment of Destin and the surrounding beaches.
Registration for the event is open. VIP and Platinum Packages are extremely limited. To view more information about the event, the location and to register today, call toll free 888-654-7776 or visit http://www.barefootandhealthy.com/barefoot-on-the-beach
###