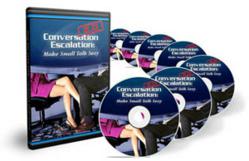 For me, my biggest frustration was always the first few minutes of a conversation. It always felt awkward and 'forced.' And I would constantly find myself wondering 'does she even want to be talking to me?'
New York City, NY (PRWEB) August 09, 2012
In an update to their review of Bobby Rio's Conversation Escalation program PUABooks.net webmaster Clint Johnson has decided to name Conversation Escalation as the official PUAbooks.net #1 guide for talking to women. The program has been incredibly popular since it's initial release although there has been controversy surrounding the authors claims that his program will allow men to "'Hot wire' a woman's emotions, and ignite attraction, just by changing a few words you use..."
Johnson explains why he is so eager to praise and promote this program.
"Bobby Rio's conversation tactics have been used successfully by men from all walks of life, and we receive unsolicited emails from customers that we have referred to Rio on an ongoing basis. The great customer responses, coupled with my own high regard for what Rio teaches are the two things that led me to name Conversation Escalation as our pick for the best guide on talking to women"
In the course Rio suggests that not knowing what to say to a woman you are attracted to is one of the leading causes of failure on the dating scene. He admits that he himself struggled for years with this problem of not knowing how to spark attraction when talking to a women.
"For me, my biggest frustration was always the first few minutes of a conversation. It always felt awkward and 'forced.' And I would constantly find myself wondering 'does she even want to be talking to me?'" says Rio, "It wasn't until I mastered 'small talk' that I began to have sort of consistent success with women."
Over the past five years Rio has built a reputation as one of the world's leading experts on attraction and talking to women and has grown a large fanbase. However, there are skeptics who say that men who want to attract women should "just be themselves". There are also those who say that learning small talk tactics is manipulative and that it is a sneaky way to create attraction.
Johnson offers this counter argument.
"Women have magazines like Cosmo that teach them all sorts of tricks and tactics to snag a man, and nobody ever complains about that. But when a guy wants to learn conversation tactics to help improve his dating life, all of a sudden people want to call it manipulative? It's a total double standard."
The program includes information on the best topics that lead to attraction, how to "steer" a conversation along, and how to inject sexuality into a conversation. It consists of numerous audio training modules, several bonuses and a free month of membership in Bobby Rio's Social Training Lab. The Social Training Lab is an online mentorship program Bobby developed which includes weekly step-by-step lessons, podcasts and unlimited email support.
Opinions may vary as to whether these conversation tactics are too sneaky to use, but single men might find the cure for their conversational conundrums with Bobby Rio's Conversation Escalation.