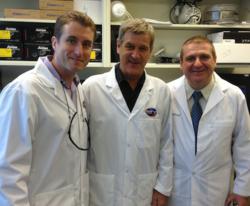 I am thrilled to be part of the Delivra team.
-- Bobby Orr, Sept 10, 2012
Burlington, ON (PRWEB) September 11, 2012
Delivra™, the Canadian-based manufacturer and market leader in transdermal delivery technology, announces the endorsement of its LivRelief Pain Relief cream by legendary Hockey Hall of Fame player, Bobby Orr. After using the topical pain relief product for several years, Mr. Orr has experienced improvement in the pain in his joints and has seen positive results in his family and friends as well.
Award-winning hockey player Bobby Orr is considered by many to be one of the greatest hockey players of all time. As a member of the Boston Bruins, Chicago Black Hawks and the NHL All-Star team, Mr. Orr helped lead his teams to Stanley Cup victories and contributed some of the most memorable moments in hockey history. He was inducted into the Hockey Hall of Fame at the age of 31, the youngest player living at the time of his induction in history.
Throughout his award-winning and record-breaking career, Mr. Orr suffered extensive injuries requiring surgery, and now lives with prosthetic knee joints that cause aching and pain. "LivRelief has improved my quality of life," stated Mr. Orr. "I would recommend it to anyone suffering with pain."
LivRelief Pain Relief cream is formulated for anyone with joint, muscle or inflammatory pain including arthritis, fibromyalgia or varicose veins. The active ingredient, Ruta Groveolens is an effective homeopathic ingredient for pain and inflammation relief. LivRelief Pain Relief creams are available online GNC stores throughout the United States.
Delivra's products LivSport, LivRelief Pain and LivRelief Nerve Pain creams all utilize patented Delivra™ transdermal cream to deliver active ingredients directly to the area of pain and inflammation. Delivra™ is unique as a delivery system in that it contains organic compounds free of smelly menthol, synthetic parabens, propylene, glycol or other harsh chemicals. LivSport and LivRelief creams penetrate six times deeper and more efficiently than the leading topical products.
Bobby Orr announced his endorsement at a special media event in PEI, Canada on September 10, 2012. (For more details on this event see: http://www.acoa-apeca.gc.ca/eng/Agency/mediaroom/NewsReleases/Pages/3749.aspx)
About Delivra™
Headed by Dr. Joseph Gabriele (@DrJgabriele), Delivra Inc. is comprised of a team of innovative scientists and medical professionals who have come together to develop natural, safe and effective medications, using a revolutionary new delivery system, Delivra™. Delivra™ is a patented, proprietary organic compound discovered by Dr. Gabriele that harnesses the body's own processes to ensure a greater depth of penetration in transporting healing substances. Delivra™ can be used to safely and effectively deliver a wide range of medications directly through the skin.