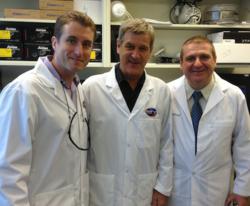 This is an exciting time for LivRelief
Burlington, Ontario, Canada (PRWEB) September 20, 2012
On behalf of Delivra™, the Canadian-based manufacturer and market leader in transdermal delivery technology, company President Dr. Joe Gabriele and hockey legend and spokesman Bobby Orr will be making television appearances on Canadian morning television, Thursday, September 20th. Dr. Gabriele and Mr. Orr will be on Canada AM at 7:00 a.m., and Mr. Orr will be on Breakfast Television between 7:30 and 8:00 am.
Delivra™ also announces its presence at the CHFA tradeshow this weekend, Saturday and Sunday, September 22-23 at the Metro Toronto Convention Centre in Toronto. The CHFA East is Canada's largest conference and trade show for the Canadian natural health and organics industry. With more than 650 exhibits in an 80,000 square-foot show floor, it's the chance for retailers to meet the industry's top manufacturers, distributors and brokers, as well as discover the year's newest, most innovative products. Delivra™ will be presenting at the Trophic booth, and Atrium company.
"We are very happy to be sharing LivRelief with Canadian viewers and retailers over the next few days," stated Delivra™ President Dr. Joe Gabriele. "This is an exciting time for LivRelief, and we are eager to share the news about our revolutionary product."
Delivra's products LivSport, LivRelief Pain and LivRelief Nerve Pain creams all utilize patented Delivra™ transdermal cream to deliver active ingredients directly to the area of pain and inflammation. Delivra™ is unique as a delivery system in that it contains organic compounds free of smelly menthol, synthetic parabens, propylene, glycol or other harsh chemicals. LivSport and LivRelief creams penetrate six times deeper and more efficiently than the leading topical products.
Hockey legend and Hall of Fame Player Bobby Orr supports and endorses LivRelief after having experienced improvement in the pain in his joints after using the product and recommending it to his friends and family. Using LivRelief has so greatly improved his pain that he wholeheartedly offers his endorsement and recommendation of the product.
About Delivra™
Headed by Dr. Joseph Gabriele (twitter @DrJgabriele), Delivra Inc. is comprised of a team of innovative scientists and medical professionals who have come together to develop natural, safe and effective medications, using a revolutionary new delivery system, Delivra™. Delivra™ is a patented, proprietary organic compound discovered by Dr. Gabriele that harnesses the body's own processes to ensure a greater depth of penetration in transporting healing substances. Delivra™ can be used to safely and effectively deliver a wide range of medications directly through the skin.