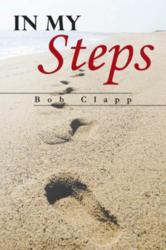 It's not so much about what we can do for Him, it's more about what He is doing in and through us.
Oakland, Ill. (PRWEB) June 18, 2013
Bob Clapp doesn't live by the principle, "What would Jesus do?" Instead, he asks, "What is Jesus doing?" His new book, "In My Steps" (published by Abbott Press), follows the life Clapp lives by asking this question every day through the good, the bad and the ugly.
"The book is a description of how Jesus has lived in me, which is the true dynamic of the Christian experience," Clapp explains. "It's not so much about what we can do for Him, it's more about what He is doing in and through us."
Clapp hopes readers will find true freedom, peace and joy by fully surrendering themselves to Jesus Christ in their experiences, good or bad.
An excerpt from "In My Steps":
Throughout the New Testament Scriptures, we read of how we are being conformed to the image of Jesus; that He is living His life in us more and more as we surrender more and more to Him. It is in this understanding that I have written "In My Steps." He wants to live His life in me. He is doing that as much as I believe and let Him and that grows with each passing year.
"In My Steps"
By Bob Clapp
Softcover | 6 x 9in | 152 pages | ISBN 9781458208699
E-Book | 152 pages | ISBN 9781458208682
Available at Amazon and Barnes & Noble
About the Author
Bob Clapp lives on 15 acres of wood with his wife of over 59 years with 40 grandkids living nearby. He graduated from Lincoln Christian University in 2012 alongside his granddaughter. He has written many devotionals for area newspapers and speaks at churches and other organizations. With his 50-member family, Clapp enjoys hiking, fishing, canoeing and sharing big meals together.
Abbott Press, a division of Writer's Digest – the oldest and most respected publisher devoted to the education and advancement of writers – is an indie-publishing imprint dedicated to helping writers bring their literary vision to print. Author Solutions, Inc., a leader in indie book publishing, will fulfill publishing, sales, and marketing services for Abbott Press. For more information, or to begin publishing a book today, log on to abbottpress.com or call 866-697-5310.