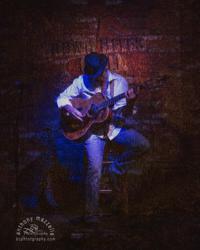 I bought the use of the image for my web site and hired Bob to photograph me with some of my artistic guitars.
Sedona, AZ (PRWEB) February 13, 2013
Musicians are looking to play a gig at Sound Bites Grill in Sedona, Arizona for more than the usual reasons. When they play there they have the possibility of being added to the Sound Bites Wall of Fame.
Lots of places have a gallery of musicians gracing their walls, so what's different? Photographic Artist, Bob Coates of Bob Coates Photography takes the musician's photos to a different level by combining lighting techniques, organic textures and state of the art computer skills.
According to Coates, "These are techniques I have been honing over the last three or four years. My goal is to have people say, 'That looks like a painting!' Texture, depth and dimension with the feel of an artists' palette are the goal with an original image capturing the mood and feel of the musicians. I started this technique with my landscape and cityscape work, moved it to the studio and found it also works with the portraits I've been creating of the musicians."
Sound Bites Grill is a relatively new venue and co-owner Stephen Sullins had the idea to use Coates to create images for the Wall of Fame after seeing some of his work taken at a previous restaurant.
"It started with Bob photographing musicians live during performances and experimenting with artists I had hired. Seeing the work and reactions from others showed it would be a winner displaying Bob's art at the new concept restaurant I was working on putting together with my partner Michele. It's turned out to be a hit with our patrons. They love checking out the wall! It's becoming quite an attraction and is a great addition to the guitar art we have throughout the rest of the space," commented Sullins.
Blues guitar player Mark T. Small exclaimed, "Man, I was blown away by Bob's painting of me. I had been to Sedona for a gig and returned a few weeks later and was shown an incredible rendition of me behind the guitar and immediately commissioned Bob to create the cover art for my next CD. And THAT CD cover was even better than the first piece!"
Anthony Mazzella, named by Billboard Magazine as one of rock's new generation of guitar heroes hired Coates after seeing his image.
"Bob did a fabulous job of catching the look I was after. I bought the use of the image for my web site and hired Bob to photograph me with some of my artistic guitars. I'm creating art by painting on guitars, something I started when I was younger. I've already sold a couple from the restaurant with one raising $2,500 for a local charity."
The guitar art is growing at Sound Bites Grill every month. Not only does the Wall of Fame get new images on a regular basis, but there are plans in the works to suspend and up-light more guitars in the upper reaches of the club. According to Sullins, "Between the guitar gallery and Coates' artistic photography we have created a 'work in progress' here at the restaurant which will make people want to come back again and again for the food, fun, music and now art."
Bob Coates Photography is based in Sedona, Arizona and specializes in not specializing. While his primary passions reside in commercial and fine art photography, there's very little he doesn't love to photograph. He's found that combining the techniques of different types of photography and utilizing the newest software and Photoshop techniques leads to new ways of capturing and creating images.
Too see more of Bob's artwork visit his gallery. For more information on Bob Coates Photography contact Bob directly at Bob (at) bcphotography (dot) com.