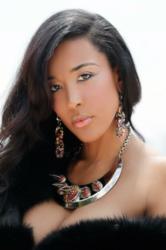 "When I first met Bo, she said, 'Mr. Miller, one day I'm going to be on the cover of your magazine.' That's when I knew this was someone who was going to make it big."
- Sidney Miller, Founder and Chairman of BRE Magazine
Hollywood, CA (PRWEB) January 23, 2013
"I had over 7,000 Subscribers and millions of views on my YouTube channel which represented years of hard work. As an Indy Artist, social media is my life line to my fans and the world. Without it, I could not exist", say's the resilient artist Bo Benton. The massive and seemingly devastating crash of Bo's site took place in September 2012. "The source of the crash was discovered and the new site has been safeguarded against any such future failure" says Bo.
Today the Bo Benton camp is breathing easier and celebrating Bo's "Bigger and Better" YouTube Channel by marketing it to her legions of Twitter and FaceBook followers as well as to her scores of bloggers and musical taste makers. Bo herself invites them to check out and subscribe to her new channel which serves not only to refresh the Bo Benton brand, but to also reintroduce Bo's earlier musical works to old and new fans alike. The channel features Bo's popular and current hits such as "Intimidated", and "I Know You Want It"; as well as the underground phenomenon "Bounce".
"Running an Indy label and being the artist has its challenges but I keep my eyes focused on my goals and enjoy the journey because I can't think of anything else I'd rather do with my life", says Bo as she hurries into what she hopes will be one of the final studio sessions of her next highly anticipated album release , 'THE UNDERGROUND COLLECTION', which has faced heavy delays. Promising to showcase "Bo" at her best ever, the dynamic singer/songwriter ventures into the new realm of studio production by creating an album that many feel will gain the interests of camps such as Lady Gaga's, Madonna's, as well as Nicky Minaj. Radio DJ and on air personality, DJ Double K of Philadelphia, coined Bo's new sound as "Shockingly stunning original music that has a cinematic affect on the listener." Bo knows what her fans like and critical ears will be finely tuned to see what the bodacious song bird creates next.
Since her 2008 debut album release Queen of The Night, Bo, a former model, has been dividing her time between tour dates and studio sessions to work on her sophomore album release The Underground Collection. "The music in my head never sleeps, it's like there is a constant club going on in my brain," cracks the Chicago born Pop Troubadour Bo Benton.
Bo talks a bit like she sings: a stream of outbursts colored with wry observations, humorous contradictions and periodic tangential turns.
Since her debut release, Bo has been piling the coal in the back of her freak train, quietly building momentum and honing her hybrid style twist on the Dance/Pop Music genre. "My new album is one I've envisioned for years, I really love how it's all coming together. My goal is to create a non-stop party train from the moment you press play."
Bo grew up on the South Side of Chicago in the inner city along side a family of musicians. "All my family is into music," she says, "but I had the bug hardcore. I knew music was my calling."
Bo started writing songs and poetry at the age of 13 and never looked back. By the age of nineteen she was the lead female singer of a cover band with her first gig touring in Japan.
A musical sponge, Bo keeps busy between writing, producing, and performing by reading up on music staples like Billboard and Rolling Stone Magazine and keeping her radio locked on KISS FM where she looks forward to hearing her latest single Intimidated blast from her speakers.
As for the new album, Bo has been going to New York and D.C. to record with veteran producer Danny Staggs. "He was just what I needed," says Bo of her working with Staggs. "He keeps things moving. I've recorded with producers who are definitely on their A-game, but to work with a musical vet that's been around the block and back producing world wide dance hit's like Inner City's Good Life, a song that tons of artists have sampled and interpolated from, I know we will create a great and lasting musical sound."
Request Bo Benton's Intimidated on MTV2, 106 & Park, and MUCH MUSIC Today, and visit Itunes and search Bo Benton to grab her other new dance tracks.