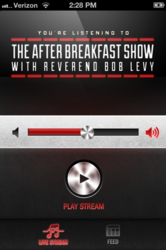 An incredible performer, Bob's knack for off the cuff humor is the best in the business.
Greenville, SC (PRWEB) August 31, 2012
The Bob Levy Radio iPhone / Android App provides access to a beautifully designed interface featuring "The After Breakfast Show" audio feed, links, stories and comments being discussed on air. Fans of the show can listen, follow along and interact with the show as it is happening. The After Breakfast Show with The Rev Bob Levy streams Monday - Thursday 9:00 am est.- 12:00pm est.
"The Reverend" Bob Levy has started "The After Breakfast Show" and is quickly building an audience world wide with the assistance of new technologies such as the iPhone and Android devices. Bob is an American stand-up comedian and radio personality who is most well known as the host of the comedy roasts and frequent guest on the Opie and Anthony Show as well as the Howard Stern Show, co-host of the Miserable Men show on Howard 101, and stand-up comedy performances on the Killers of Comedy tour.
"When it comes to working a crowd, Bob consistently works them into a frenzy! People say he's over the line, blunt, politically incorrect, and oh yeah, FUNNY. Just because Bob's forte' is working the crowd he does not go on stage and just pick on people, He has a polished, well groomed act that took years to create and audiences are loving it. An incredible performer, Bob's knack for off the cuff humor is the best in the business." - Barry Jay, Stress Factory
The "Bob Levy Radio" iPhone / Android apps can be downloaded from the Apple App Store and the Google Play App Store.
About ValleyRocket.com
Valley Rocket was founded in 2011 as a tech startup in Greenville, SC. The company's focus is on mobile application development for the iPhone, iPad and Android Platforms. ValleyRocket.com provides a custom app idea portal for individuals or businesses to submit ideas they have dreamed up.
Other applications in the portfolio consists of:
Daily Commute iPhone App - A commute app available for iPhone designed to help users make better decisions through the use of statistical data. The average American spends 25 minutes on their daily commute to work (one way), and there is an epidemic of stress related illness. More knowledge about one's daily commute time means better preparation, regularly being on time, and reduced stress. Valley Rocket is committed to be a major contributor in the endeavor to give people time and their life back.
Alpha Calc iPhone / iPad Calculator App - The Alpha Calc iPhone and iPad Calculator App offers a new user interface for calculators that have been around for decades. As an example, one of the outdated features of the calculator is the memory button. The memory button has been removed in Alpha Calc Universal, and replaced with numerous customizable buttons. The user can customize these buttons with virtually any number, such as answers to equations or regularly used numbers like tax rates. The user can also pick from a library of predefined buttons.
Shortcut IQ iPhone App - The iPhone App "Shortcut IQ" is an easy to use shortcut reference application for the Mac, iPad, iPhone and iPod Nano. Keyboard commands can be difficult to remember. Often, the best way for a user to find them is to bookmark multiple websites or dig through various menus and help files. Now, Shortcut IQ offers all this information in one iPhone Application for free.
Clemson Football iPhone App - Clemson Football fans now have all information needed to follow the tigers in one App. Features include: The Current Schedule, Tiger News, Streaming Sports Talk Radio, Tiger Roster, History, ACC Division breakdown, Top 25 Polls from ESPN and Standings from ESPN.