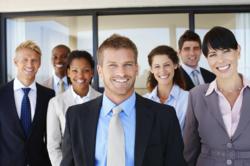 We have all our training team certified through these key Bob Pike presentation and workshop management skills, to become expert at this skill.
Minneapolis, MN (PRWEB) August 28, 2012
You have a great group of hand-picked team members, but are they as effective as they could be? Do you know how to get them aligned as a team? High-performing teams are still one of the best methods for achieving outstanding results. Yet they are often poorly managed or not even encouraged to develop.
Creating a positive work environment is key to the growth of any organization. The Bob Pike Group offers a people-development strategy to help managers discover and capitalize on their strengths and use those strengths to do great things within their organization. The Creating High Performing Management Teams process provides proven approaches to creating and sustaining management teams that achieve their goals and get results.
The Bob Pike Group will host a one-hour webinar "Creating High Performing Teams" on September 20, 2012 11:00am - 12:00pm Central Time. The webinar will explore the 5 R's of successful teams and the five dysfunctions that parallel those success factors. Participants will look at team reasons, relationships, responsibilities, roles and goals and team results. Explore a process that hundreds of companies are using to achieve team success. Click here to register.
About The Bob Pike Group
The Bob Pike Group has provided train the trainer workshops and consulting services to individuals and corporations for more than 30 years. Bob Pike is the pioneer of the participant-centered training method and has a well-earned reputation as "the trainer's trainer." More than 125,000 people have gone through his Creative Training Techniques Boot Camp and more than 200,000 copies of his Creative Training Techniques® Handbook have been sold. There simply is no one in the training industry as well known and respected as Bob Pike. The Bob Pike Group trainers take those same methods and passion for learning and funnel them into interactive sessions in any training platform or mentoring format.