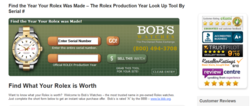 Knowing the date of production allows them to find similar watches on the Bob's Watches website, providing an at-a-glance valuation.
Huntington Beach, CA (PRWEB) June 03, 2013
In response to the industry need for a Rolex identification service, luxury watch exchange Bob's Watches unveiled the Rolex Serial Number Look Up Tool last week.
Each month, thousands of Rolex owners attempt to age their Rolex using a range of databases that can be inaccurate. Rolex began systematically applying serial numbers to their watches back in 1929, but changed to randomized serial numbers in 2010, making identifying watches much more complicated. Correctly identifying a Rolex and its year of manufacture is essential to ensure an accurate valuation. This new free tool uses the expertise of Bob's Watches to ensure every dating is 100% accurate, and can easily be accessed and downloaded from the website.
"Many people use lists of serial numbers in an attempt to identify their watch, but this isn't a reliable method. In 1960, Rolex began prefixing serial numbers with a letter, and continued each letter run until all numbers were used. This means letter prefixes could end at random times of the year, making using them for dating very inconsistent," explained Paul Altieri, CEO of Bob's Watches.
Using the Rolex serial number look up tool is effortless. Users simply need to enter their serial number into the tool on the Bobs' Watches website, and they'll instantly be shown the year of production. For watches like the Rolex President, which began production in 1969, this tool is invaluable for dating.
Altieri also states, "Once they've used the tool, customers find valuing their watches much easier. Knowing the date of production allows them to find similar watches on the Bob's Watches website, providing an at-a-glance valuation, and makes the decision to buy or sell watches effortless. Bob's Watches prices are constantly updated to reflect current market trends, ensuring a fair and reliable valuation at all times." This tool along with the concept of the pre-owned Rolex exchange, where buy and sell prices are not hidden like other retailers, combine to create a transparent and trustworthy experience for customers of Bob's Watches.
The tool has been designed to be intuitive and easy to use, regardless of IT skills. The simple interface collects only the Rolex serial number, for speed and ease of use, and has direct buttons to return a production year or put the watch up for sale. It fits neatly into the header of the Bob's Watches website, allowing users to identify their watch whilst browsing other Rolex models, such as the Submariner.
About Bob's Watches
Bob's Watches is the world's first and only pre-owned Rolex exchange, where customers can buy, sell or trade used Rolex watches for fair market values. Bob's Watches combine high-quality, authenticated and fully serviced watches with excellent customer service. They are one of the only Rolex retailers to hold an active inventory of watches, ensuring quick delivery of any purchases, and are rated A+ by the Better Business Bureau. President and founder Paul Altieri is a graduate of Boston College 1979, and is famed for his knowledge of these luxury watches.