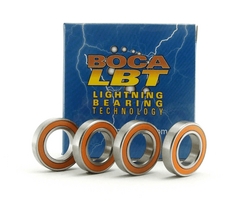 Delray Beach, FL (PRWEB) July 28, 2008
The Boca Bearing Company is pleased to announce the launch of the new Orange Seal LBT line of ceramic wheel bearings for radio controlled cars and trucks. Boca Bearing has been one of the most innovative leaders in the RC bearing field and among the first to offer ceramic bearings to the hobby world. The much anticipated line of Orange Seal wheel bearings seeks to satisfy the most serious of RC racer but the price is designed to allow everyone to enjoy the benefits.
The Orange Seal bearings are the latest addition to Boca's Lightning Bearing Technology (LBT) line of high performance bearings for racing enthusiasts. The bearing races are rated at an ABEC 7 tolerance, which makes the Orange Seal line the most precise bearing possible. The closer the tolerance is the shorter the path that the ball has to travel and it is therefore capable of achieving higher RPM's than a lower tolerance bearing.
Most RC applications can also be very hard on typical shielded bearings so the Orange Seal line comes with a unique non-contact seal. These seals are designed to give the most protection from the elements possible while creating absolutely zero drag that is usually associated with full contact seals. Lastly the Orange Seal LBT bearings come with grade 5, ceramic Si3N4 balls which allow the bearing to be lighter and to spin 50% faster than a traditional bearing.
Orange Seal bearings are being supplied for On Road RC applications with light weight AF2 oil and for Off Road RC applications using heavy duty NB2 grease. An extra set of seals is supplied with each Orange Seal bearing purchase to extend the life and allow for occasional cleaning. Free seals for life are available upon request. Orange Seal LBT bearings can be used in gas or electric RC Cars, Trucks and Helicopters. All of the most popular sizes are available at our best price ever for ceramic hybrids. Get Juiced and destroy the competition every time!
Contact: info @ bocabearings.com
Webpage:
RC Ceramic Bearings
High Res Download:
http://www.bocabearings.com/images/orange%20seals%204%20blue%20box.zip
###