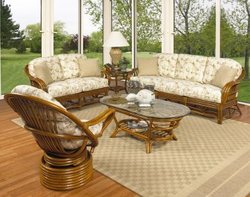 As we approach summer, this patio furniture by Boca Rattan will definitely give our online customers a great selection of outdoor furniture they will love
Dallas, TX (PRWEB) March 25, 2009
Wholesale Furniture Brokers' premier rattan furniture manufacturer, Boca Rattan, is expected to boost sales in patio furniture on the USA and Canada websites this summer with over 40 new items. Boca Rattan specializes in living room, dining room, sun room, and patio furniture made with rattan that can be customized with over 100 high quality cushion and fabric patterns and colors. Each product's frame can be finished in Royal Oak, Urban Mahogany, or both. The sofa sets, chairs, and dining sets can be customized with outdoor fabrics that are weather resistant. Rattan furniture is known for its tropical flair, durability, and environmentally friendly nature. "Rattan reproduces itself every seven years, therefore I would consider it to be a sustainable product," says Ron Stitt, Owner of Boca Rattan when asked if Boca Rattan has any sustainable practices. "We also don't use harmful chemicals or materials during manufacturing."
Boca Rattan has been manufacturing and designing all their products from their Philippine-based factory in Cebu for over 50 years. Their Canadian factory, located in Toronto, imports the products from the Philippines, adds the finishing touches, and fully assembles the products. "Our furniture is made to last for generations," says Ron. Boca Rattan carefully selects each rattan pole that is used in the frames. Only 1-1/4 inch poles are singled out to ensure strength and durability. The joints of every piece of furniture are carefully screwed, glued, and leather wrapped for added stability. "The Boca Rattan products available to order on the Wholesale Furniture Brokers' websites will give customers a real authentic tropical experience in their home," says Matt Holmes, Marketing Manager of Wholesale Furniture Brokers. "Anyone who orders these wood furniture products will feel like they are on a vacation every time they see them."
Strict quality control practices are used during every stage of the production process including designing, manufacturing, assembling, warehousing, and shipping. Boca Rattan individually bubble wraps all of the corners, feet, and arms then wrap the product in corrugated cardboard covered by a heavy poly vinyl wrap to protect the product from the elements. The packaging process enables the fully assembled product to arrive at the customer's home in perfect condition. Ensuring that customers receive their products in perfect condition is one of the requirements Wholesale Furniture Brokers inspects before adding products from a new manufacturer to the websites. "We chose to partner with Wholesale Furniture Brokers because of their consistent customer service, high quality products, and large group of clients across North America," says Ron.
Boca Rattan started with two Canadian entrepreneurs who had the vision of producing quality home furnishings in the market. Their alliance with a dedicated furniture factory in Cebu, Philippines was one of the major steps they have taken to consistently produce their high quality rattan furniture. According to Ron at Boca Rattan, this was one of the reasons for their success. Wholesale Furniture Brokers' customers can order the top selling items from Boca Rattan, including the Antigua, Amarillo, Moroccan, and Ashley Falls collections. Boca Rattan is currently developing another line of outdoor furniture and will be available on the Wholesale Furniture Brokers' website when they are in stock. "As we approach summer, this patio furniture by Boca Rattan will definitely give our online customers a great selection of outdoor furniture they will love," says Matt. "The fabric options of these products will also give customers their own unique style."
About Wholesale Furniture Brokers
Wholesale Furniture Brokers delivers direct to consumers everywhere in North America and is a price leader in online furniture. Word class customer service is provided by telephone, email, and chat. Shoppers can choose from an increasing collection of furniture styles for inside and outside of the home at Wholesale Furniture Brokers. Furniture retail businesses and interior designers interested in ordering furniture available on GoWFB.com and GoWFB.ca including Boca Rattan can apply for Wholesale Furniture Brokers' furniture dealer and vendor program.
# # #