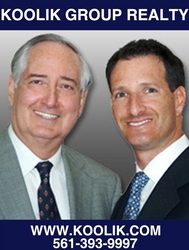 Boca Raton, FL (PRWEB) December 4, 2009
Koolik Group Realty, Boca Raton's premier real estate agency, continues to see increased demand in the sale of homes in Woodfield Country Club and other country club communities and gated properties in Boca Raton and South Florida. In the last few months, Elliot and Wendy Koolik have sold seven homes in the following Woodfield Country Club subdivisions; Clubside, Hamilton Place, Hamptons, Kensington, Stratford Green and Windsor Bay.
Woodfield Country Club is one of the premier gated properties in Boca Raton and South Florida. The 1,200 single family homes offer lake and golf course views along with a newly renovated club house. The Boca Raton real estate agents from Koolik continue to bring buyers to Woodfield Country Club and continue to impress them with the amenities the full country club community has to offer.
"Buyers are looking for great homes to buy in value and in location. What was once too expensive and out of many people's price ranges, Woodfield Country Club has once again become one of the great country club communities and gated property in Boca Raton for families and young couples to live," said Elliot Koolik. "The demand to live in a gated community at a great price with top amenities is driving sales in this premier country club in South Florida."
About Koolik Group Realty
Koolik Group Realty are recognized as one of the top Boca Raton luxury real estate companies specializing in homes for sale in country club communities such as Woodfield Country Club, Mizner Country Club, The Oaks, and St. Andrews Country Club. While the Koolik Group real estate agents are active in all of Palm Beach County, they focus on greater Boca Raton, Delray Beach and Highland Beach. The team has sold over $440 million dollars in real estate by offering their clients a unique marketing plan for their home and an unparalleled level of customer service. For more information about the group, please visit http://www.koolik.com.
###