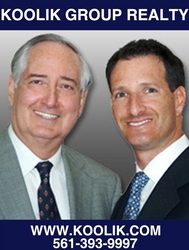 Boca Raton, FL (PRWEB) February 1, 2010
Koolik Group Realty, a leading real estate broker, comments on the interest spiking in buyers intrigued by oceanfront homes for sale in Boca Raton, Florida. Recently, as prices have dropped, Elliot Koolik and the team at Koolik Group realty have received interest from qualified prospective buyers for the luxury real estate market.
"Homes for sale in Florida are starting to sell faster than they have these past few months. Oceanfront homes in Boca Raton have been keeping our phones very busy with buyers showing interest worldwide. They are scheduling appointments to come to the US and visiting several locations during a three or four day stay," said Elliot Koolik, lead real estate broker at Koolik Group Realty.
Just like other real estate markets around the nation, Palm Beach County and South Florida saw home prices drop as economic times grew tough. The team at Koolik Group Realty has been able to help those looking to buy one of the many oceanfront homes for sale in South Florida, especially in Boca Raton, Highland Beach and Delray Beach.
About Koolik Group Realty:
Koolik Group Realty are recognized as one of the top Boca Raton real estate brokers specializing in homes for sale in Florida including oceanfront homes and country club communities such as Woodfield Country Club in Boca Raton, Mizner Country Club, The Oaks, and St. Andrews Country Club. While the Koolik Group real estate agents are active in all of Palm Beach County, they focus on greater Boca Raton, Delray Beach and Highland Beach. The team has sold over $440 million dollars in real estate by offering their clients a unique marketing plan for their home and an unparalleled level of customer service. For more information about the group, please visit http://www.koolik.com.
# # #