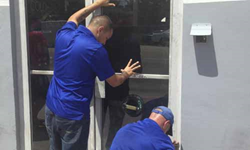 With Boca Raton being a smaller city, many businesses were not aware that we supported storefront glass repair in the city. Therefore, our new information page update highlights this fact
Boca Raton, FL (PRWEB) December 23, 2015
Express Glass and Board Up, Boca Raton Florida's top glass replacement service, is proud to announce an upgrade to the company's information page for the city, including a specific line item for storefront glass repair. The company is announcing this just in time for the busy Holiday season up to and including New Year's eve, 2015.
"Christmas and New Year's Eve are busy times for our local stores and restaurants in Boca Raton," explained Yaniet Santos, General Manager of Express Glass, "With Boca Raton being a smaller city, many businesses were not aware that we supported storefront glass repair in the city. Therefore, our new information page update highlights this fact."
To read more about Express Glass and Board Up's Boca Raton services, visit the newly updated page at http://www.expressglassfl.com/boca-raton-fl/. To read more about the company's storefront glass repair services visit http://www.expressglassfl.com/blog/24-hours-glass-replacement/24-hours-7-days-365-emergency-boca-raton-were-here-for-you/.
Boca Raton Holiday Businesses Receive the Gift of 24/7 Storefront Glass Repair this Holiday
During the December holiday season, Boca Raton businesses are busy with Christmas shoppers and New Year's Eve celebrations. Local cafes and shops increase staff to support holiday parties and special customer demands. The increase in customers may also bring an influx of accidents such as broken storefront glass. At that moment, Boca Raton business owners require urgent storefront glass repair whenever an accident occurs.
Express Glass and Board Up has proudly announced an increase in staff to service business glass repair needs for the 2015 holiday season. Boca Raton cafe and shop owners may call for emergency storefront glass repair day or night. If New Year's celebrations become too loud and glass is broken by accident, or if a burglar busts a window to steal Christmas goodies, storefront glass repair and replacement is available 24 hours a day.
About Express Glass and Board Up
Express Glass and Board Up Service Inc. is a family owned and operated glass repair business with more than 20 years of experience. Professional technicians and the large variety of inventory make Express Glass the top glass repair service. If customers are looking for Boca Raton storefront glass repair or emergency storefront glass repair in Delray Beach or Ft. Lauderdale, reach out to the company for a free estimate. 24/7 emergency storefront glass repair and replacement services are also available. If customers need a 24/7 Sliding Glass Door repair service in Boca Raton, Miramar, or West Palm Beach, technicians are standing by. The company specializes in sliding glass door repair and window glass repair; technicians will handle any glass replacement situation efficiently. Home or business glass repair is the company's main priority.
Express Glass Repair and Board up
http://www.expressglassfl.com/