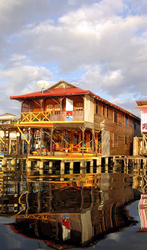 A chance at actually saving money while retired, spending less, living more and enjoying life was too much to pass up
Columbus, Ohio (PRWEB) April 18, 2009
In the middle of a global recession with jobless rates climbing and retirees going back to work it might sound crazy to quit a great job, rent your house and move to a fairly remote tropical island to work with a small hotel.
Lee Walker former budget director of Ohio State University and The State of Ohio has done just that. With a dream of living in a place where she could meet interesting people from all over the world Lee decided that semi-retiring and moving to Bocas Del Toro, Panama to work with Bahia Del Sol was the perfect choice and everyone at Bahia Del Sol welcomes her arrival.
Bahia Del Sol is located in a Panamanian village on Isla Colon in the archipelago of Bocas Del Toro. The hotel property is not like the other typical Bocas Del Toro hotels. The former home is not near the commercial strip of hotels and shops on the island and is located in a developing Panamanian community that few tourists ever dared venture into prior to the arrival of Bahia Del Sol. The property was converted into a luxury guest-house/hotel and with the wonders of the internet has attracted a steady stream of guests from across the globe.
Current hotel owner Carl Travis courted Lee Walker with many e-mails, photos and phone calls from Panama back to Ohio trying to get Lee to come aboard. After almost 1 year she decided she was ready to take the plunge and give up her 9-5 job for the first time in 35 years. The chance to live in a location where her retirement income would stretch much farther then ever imagined and the opportunity to work with her son while meeting new world travelers on a daily basis seemed to good to be true. Lee was sold and begin her preparations to move permanently to Bocas Del Toro, Panama. "A chance at actually saving money while retired, spending less, living more and enjoying life was too much to pass up" Lee stated.
Bahia Del Sol is a great alternative to typical Bocas Del Toro hotels and provides a home away from home for travelers who make there way out to the remote islands of Bocas Del Toro, Panama. Lee Walker will add decades of management experience to Bahia Del Sol which should improve the experience for return and future guests.
You can follow the future of Bahia Del Sol and life on the islands of Bocas Del Toro, Panama by signing up for the Bahia Del Sol mailing list online. With monthly updates and a blog soon to be launched you can share in the Bahia Del Sol experience first hand.
###