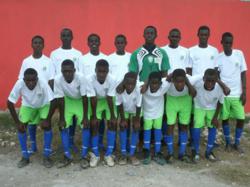 We're very ecstatic and joyful that we're able to support a group of children in Haiti
Tampa, FL (PRWEB) April 18, 2013
Mauricio and Jennie-Illas Rincon donate thirty-two new white and bright green uniforms to the Union Soccer Club, part of the sports program at SAKALA, a youth education center in Cité Soleil, Port - au - Prince, Haiti. The SAKALA center blends sports, agriculture, community building, and peace education in an effort to provide safe environments and empowerment for youth, women, and other community members.
"We're very ecstatic and joyful that we're able to support a group of children in Haiti. Ecstatic because I'm a big fan of the sport and have been playing soccer since I was 4, and joyful, because God has given me the opportunity to give to children most in need," says Mauricio Rincon.
Soccer is the biggest sport in Haiti and is instrumental in SAKALA's objective to share the message of peace throughout the community. There are currently six boy's teams, ages ranging from 10 to 18, and 1 newly established girl's team. SAKALA currently works with and educates 250 boys and girls from the surrounding Citi Soleil community, a marginalized shantytown, often referred to as the largest slum in Port – au – Prince, Haiti.
SAKALA is also changing the local and global stigma of Citi Soleil through its youth empowerment programs. The community is often referred to as a Red Zone and gang infested slum but the Executive Director of SAKALA, Daniel Tillias, believes Citi Soleil can be a place of peace and hope of a brighter future especially for the community's youngest residents.
The soccer uniforms were part of a collaborative and collective donation by businesses and individuals in Florida and Virginia of soccer equipment, sports medicine, extracurricular games, and 250 school backpacks filled with school supplies delivered by Bochika, a Florida 501 (c)(3) charity organization and sponsor of the SAKALA program. To view photos of the new soccer uniforms and the youth of the SAKALA program, please visit http://www.facebook.com/BochikaOrg and click on photos.
Mauricio and Jennie-Illas Rincon operate three franchise owned McDonald's in the Tampa area: Nursery location, 1500 S. Belcher Rd, Clearwater. – Citrus Park location, 8002 Citrus Park Dr. – Tampa Wal-Mart location, 6192 Gunn HWY.
If you would like to find out how you can help strengthen impoverished communities in your hemisphere, please contact Phil Rincon at 305.484.1485. Bochika, Inc. is a 501 (c)(3) nonprofit charity organization. All donations are tax deductible.