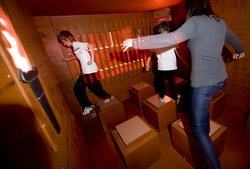 The new pricing fits the lifestyle of our guests much better and are a big help in this economy
Torpshammar, Sweden (Vocus) December 27, 2008
At a time when people worry about the economy and financial security, Boda Borg launched new prices for their entertainment services that are less expensive and much more convenient. On December 26th, Boda Borg locations in Sweden began offering two prices for drop-in guests -- one price at about $15 for 2 hours of fun, and a second price at about $23 where guests can stay as long as they want. "The new pricing fits the lifestyle of our guests much better and are a big help in this economy," said David Spigner of Boda Borg Corporation.
According to Spigner, "we think it is important that people can afford to have fun and that prices match what people expect of local entertainment...$15 for 2 hours of great fun is really easy for people to do, and for an extra $8 guests can choose how long they stay." By comparison, some guests would pay up to $30 for only four hours before the change.
Spigner, one of the new owners of Boda Borg, believes that people want local entertainment that is 'as easy as going to see a movie.' "The old pricing attracted high spending vacationers and tourists, but did not appeal to guests who live near our locations. Local guests can now enjoy Boda Borg, and vacation guests and tourists also save money now," said Spigner. The new price strategy is one of the first official changes from the new management team at Boda Borg. "Many of our new strategies will begin to take shape in 2009," said Spigner.
For more information, contact David Spigner at 949-230-1166.
About Boda Borg
Boda Borg is a unique gaming concept developed in Sweden called Questing. A Quest is a series of challenges, and teams of people attempt to pass through many different Quests at our locations. It's fast paced, and teams have to think outside the box and cooperate to survive. It is an exhilarating experience only available at a Boda Borg location. Boda Borg Europe is a wholly owned subsidiary of Boda Borg Corporation of Southern California. Visit http://www.bodaborg.com.
# # #