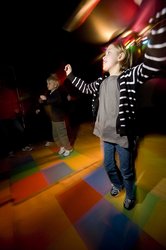 I had been looking for a truly unique and timely business for years, and someone I met in Sweden suggested going to what they called a 'really exciting place', but they did not know the name
Laguna Hills, California (Vocus) January 9, 2009
A team of four international business executives has acquired the entire concept rights and franchisor business of Boda Borg. Since the close of the acquisition in June of 2008, a comprehensive new strategy has already lead to more frequent introductions of new Quests, improved look and feel of the Quests, and a new pricing strategy. The team intends to upgrade the operating practices followed by rolling the concept out to new countries on a primarily franchised basis. They have already received nearly 30 requests for new locations in 11 different countries.
In the summer of 2007 David Spigner came across a Boda Borg location while traveling through Sweden. "I had been looking for a truly unique and timely business for years, and someone I met in Sweden suggested going to what they called a 'really exciting place', but they did not know the name," explains Spigner, one of the new owners.
What Spigner discovered was Boda Borg in Oxelösund, Sweden. Boda Borg offers an active-entertainment experience to their guests called Questing. According to Spigner, "It was like being inside a giant computer game…except no computers, no mouse, no virtual characters, no special equipment…you just stepped into a Quest and tried to survive. The Boda Borg building embodied the technology that gave the Quests life, and my family and I were the living characters. For each Quest, we had to figure out what environment we were in, what needed to be done, and how to get it done without making a mistake or running out of time."
Spigner, whose executive experiences cross Asia, Europe, and North America, was immediately taken by the concept. "My family went crazy in there. They insisted we cancel other plans to go back again, and they talked about it for weeks," said Spigner. In the summer of 2007 there were 8 Boda Borg locations in Sweden and 1 in Ireland.
"We look forward to expanding Boda Borg throughout the rest of Europe, the USA and North America, and perhaps the world," says Spigner.
For more information about Questing visit http://www.bodaborg.com or contact David Spigner at david dot spigner at bodaborg dot com.
About Boda Borg
Boda Borg features a unique gaming concept developed in Sweden called Questing. A Quest is a series of challenges, and teams of people attempt to pass through many different Quests at Boda Borg locations. It's fast paced, and teams have to think outside the box and cooperate to survive. It is an exhilarating experience only available at a Boda Borg location. Boda Borg Europe is a wholly owned subsidiary of Boda Borg Corporation of Southern California. Visit http://www.bodaborg.com.
# # #