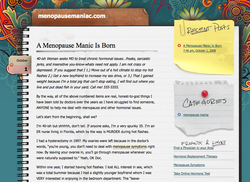 The impact menopause has on women is hard to believe unless you are going through it yourself, know someone who is going through it, or walk in the shoes of a physician who treats women suffering from the signs of menopause
Boca Raton, Florida (PRWEB) October 3, 2008
She's a maniac, maniac, that's for sure.
Well how many menopause maniacs do you know? Maybe you are one yourself. You know, screaming at strangers, breaking into a sweat in the middle of winter, gaining five pounds from smelling a cookie. Sound familiar?
Sponsored by BodyLogicMD, MenopauseManiac.com debuts as the first online reality blog for menopausal women. This blog takes you behind the scenes of the journey that some women take in finding their way from being a true menopause manic to the relief of hormonal harmony.
"The impact menopause has on women is hard to believe unless you are going through it yourself, know someone who is going through it, or walk in the shoes of a physician who treats women suffering from the signs of menopause," said Dr. Mike Lee, BodyLogicMD Miami-based physician and hormone therapy expert. "The reality of the menopause maniac blog gives a true perspective of what women go through."
The first menopause maniac is 40-something Judy B., a Registered Nurse by day and hormonal freak by night. Follow Judy's trials and tribulations in her search for balanced hormones and the journey she takes to get her life back.
"Yes, I'll admit it. I'm a menopause maniac," said Judy. "While some of the things I'm going through aren't pretty, they are honest and real. I want to share my experiences with other women going through menopause and hopefully we can laugh about some of it and help each other find some relief!"
About Menopause Maniac
Brought to you by BodyLogicMD, Menopause Maniac is a blog that is dedicated to helping women understand the realities of menopause and finding their way to treating their symptoms and living the best life possible using bioidentical hormones. The blog is a slice of life documenting real women who are suffering from the severe symptoms associated with menopause and hormonal imbalances.
About Judy
Judy is 40-something and experiencing severe menopause symptoms. After finding no relief with any doctor, Judy has finally started treatment with Dr. Michael Lee, of BodyLogicMD. Follow Judy's hilarious daily adventures and the frustration of living with menopause at http://www.menopausemaniac.com.
About Dr. Mike Lee
As a hormone therapy physician based in Miami, Florida, Dr. Michael Lee is board certified in Obstetrics and Gynecology and a Diplomate of the Board of Anti-Aging Medicine as well as being an active member of the Fellowship in Anti-Aging and Functional Medicine. Practicing as an OB/GYN allowed Dr. Lee to experience first hand the negative effects hormone imbalance can have on the body. He now devotes his Miami, Florida practice full-time to preventive and functional medicine, wellness, anti-aging integrated with bioidentical hormone therapy, customized nutrition and fitness programs.
Dr. Lee graduated from the Tulane University School of Medicine in 1997. He completed his internship and residency in 2001 at the Tulane University School of Medicine where he was distinguished as the Chief Administrative Resident. He became a Clinical Instructor at the Tulane University School of Medicine, and then an Assistant Professor of Clinical OB/GYN at the University of Miami School of Medicine.
About BodyLogicMD
Founded in 2003, BodyLogicMD currently has 19 locations nationwide each with highly trained, physician-owned practices specializing in natural bioidentical hormone replacement therapy integrated with fitness and nutrition for men and women suffering from hormonal imbalance, menopause, and andropause. Suzanne Somers' latest book "Breakthrough: Eight Steps to Wellness" lists BodyLogicMD as an expert source and her previous book, "Ageless, The Naked Truth About Bioidentical Hormones" dedicates an entire chapter to BodyLogicMD.
For more information and to find the BodyLogicMD location nearest you visit: http://www.bodylogicmd.com.
Subscribe to the BodyLogicMD blog with weekly hormone therapy news and views at: http://bodylogicmd.wordpress.com/.
Subscribe to the Menopause Maniac blog with weekly posts and videos at: http://menopausemaniac.com
###