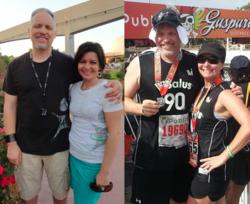 We would never have thought that we would run a 5k race together. The Challenge was completely amazing and life transformational.
Tampa Bay, Florida (PRWEB) May 22, 2013
Allen and Melanie Milletics won the Body by Vi™ Challenge and were named the Active Couple Champions. ViSalus, the lifestyle transformation company that champions people's weight loss and fitness goals through the Body by Vi™ Challenge, announced 21 new Body by Vi™ Champions before a crowd of nearly 10,000 at its annual National Success Training event in Los Angeles on Saturday, March 23, 2013.
Winners are chosen based on results achieved during their personal challenge (50%), personal story of their transformation (25%) and a community vote (25%). Allen and Melanie's compelling story helped them win the Champion title.
"We would never have thought that we would run a 5k race together. This was completely amazing and life transformational. We trained for months. Allen was working out with a personal trainer working to build up muscle mass. He had started at virtually zero because he has herniated discs and an ankle that has always given him trouble. The morning of the race was surreal and fantastic. I'm 38, and Allen is 45.
The Gasparilla Distance Classic was our first 5k race. We had our two beautiful kids ages 8 and 12 in the back as we drove over to compete in a race. I was so proud that they were going to watch their parents run and that they were seeing us as these healthy, vital people. My goal was to run it - completely - and to finish my first race ever in less than 35 minutes. His goal was to complete the 5K, even if it meant walking part of the way to avoid injuring his ankle. As the starting gun went off and I took off, saying 'see you at the finish love', I cannot tell you how much my heart soared! I ran ahead and finished in 32:43 and Allen crossed the finish line about 10 minutes later - having jogged the whole way! He was elated! Our Challenge was fueled by the Vi-Shape Shake® and other ViSalus Products such as GO®, PRO®, and NEURO®," said Melanie.
"We're so proud of the discipline and hard work our Champions put into the Challenge to achieve their personal goals," said Ryan Blair, Co-Founder and Chief Executive Officer of ViSalus. "It's beyond rewarding to see so many people taking the Challenge and sharing their achievements with others. We hope these newest Champions inspire even more people to go for their personal best in life."
Among other congratulatory gifts, all Champions are rewarded with an "Ultimate Transformation Vacation"- including head-to-toe spa makeovers at the Beverly Wilshire Hotel, a stay at the W Hollywood Hotel, a $5,000 shopping spree with a personal celebrity stylist from Haute Street, Body by Vi™ Challenge Champion shoots with celebrity photographers, tickets to a Lakers game and more, for the complete V.I.P. red carpet experience.
The Body by Vi™ Challenge starts with a simple personal goal set by each individual to improve their health, whether by shedding pounds, achieving their optimum physique or accomplish an athletic activity. The Challenge is built on five unique Challenge Kits to assist in these goals – Balance Kit, Shape Kit, Core Kit, Transformation Kit, and Fit Kit. Products in each kit are scientifically designed to help each person meet and exceed their own personal goals.
ViSalus encourages everyone to join the Challenge online and document their results along the way with the use of their social media application - The Challenge Trainer. At the end of each person's 90-day Challenge, they submit their results for a chance to share in $47 million in free products, prizes and vacations each year. Winners are crowned in three platforms (Weight-Loss, Active and Fitness) and three categories per platform: Male, Female, and Couple. In addition, ViSalus also crowns a Team, Family and a Random Drawing Champion. Winners in each category are called Champions and are announced and crowned three times a year at ViSalus National Events.
Individuals who are up for The Challenge can contact Champions Allen & Melanie Milletics for more information and to get started at http://www.ViChampions.com, or by calling 727-565-2053
About ViSalus
Founded in 2005 with headquarters in Los Angeles, CA and Troy, MI, ViSalus is the company behind the Body by Vi™ Challenge, a 90-day personal health and lifestyle transformation platform. ViSalus champions personal victories and entrepreneurship through a social marketing model, premium products, and supportive global community. ViSalus is majority-owned by Blyth, Inc. (NYSE: BTH).