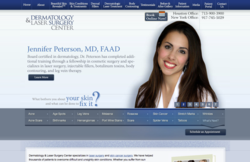 For the majority of people who prefer a more natural, tightened, youthful look and don't have the downtime, money or interest for major plastic surgery, the Thermage procedure is a welcome and more subtle alternative.
Houston, TX (PRWEB) March 08, 2012
While the ASAPS report states that minimally invasive cosmetic enhancements have decreased over the last two years, Dr. Jennifer Peterson, a board-certified dermatologist in Houston, says they are still the most common procedures she performs at her practice. Dr. Peterson also says thanks to recent developments in non-surgical body contouring techniques, she expects the popularity of non-invasive procedures to bounce back in the near future as cosmetic medical researchers continue to enhance their potential results. Dr. Peterson says she has seen a particularly significant surge in popularity of Thermage® CPT, a nonablative technology that utilizes radio frequency energy to heat the deeper layers of skin and reduce laxity in the skin. With no incisions or injections, and minimal downtime, she says patients are beginning to view Thermage in Houston as an effective alternative for surgery to improve their physique, sculpt their figure, and improve self-confidence.
"For the majority of people who prefer a more natural, tightened, youthful look and don't have the downtime, money or interest for major plastic surgery, the Thermage procedure is a welcome and more subtle alternative."
Cleared by the U.S. Food and Drug Administration, Thermage® uses unique radiofrequency (RF) technology and has been shown to safely heat the deep layers of one's skin, while cooling the surface to keep it intact during the procedure. According to the Thermage website, more than 500,000 procedures have been performed during the longest history of clinical testing with radiofrequency treatments. Dr. Peterson says deep heating stimulates the body's natural skin renewal process, helping to tighten existing collagen and simultaneously encouraging the growth of new collagen. She says that over time, sagging or wrinkled skin is replaced with smoother, tighter skin; improved tone and texture; and an overall younger looking appearance.
According to Dr. Peterson, "Collagen is a protein that keeps skin youthful and tight. But as one ages and gets more sun exposure, collagen simply breaks down faster than the body can rebuild it, and the skin may start to sag or wrinkle. Additionally, as part of the aging process the bones and fat compartments of the face begin to thin, which provides less of a framework for the overlying skin to be draped over. There are many tightening treatments that operate by heating the inner layers of skin. But unlike laser treatments and other technologies that heat the superficial skin layers, Thermage® uses unique radiofrequency to reach deep into the dermis and subcutaneous tissue to cause tightening in the layers that matter most."
Dr. Peterson says Thermage® can be used to treat sagging skin on the face, under the chin, and around the eyes; however, it has also been used in the reduction of excess skin or unwanted bulges on the stomach, knees, arms, legs, hands, thighs, or buttocks. Because Thermage® is a completely non-invasive treatment performed only in a doctor's office, she says the procedure may take as little as 20 minutes or up to three hours, depending on the size of the area being treated. Regardless of whether patients are looking for a non-surgical resolution to their excess body fat or a surgical procedure, Dr. Peterson insists patients consult with a board-certified dermatologist before undergoing any procedure for body contouring in Houston.
"As the pioneer of non-invasive skin tightening, Thermage® has the best track record for patient demand, advanced technology, clinical results and continued innovation. It delivers natural looking results and next to no downtime for patients. That means more than ever, it's the right cosmetic solution for today's patients' lifestyles."
About Jennifer Peterson, MD, FAAD
Dr. Jennifer Peterson is a board-certified dermatologist who is experienced and skilled in a range of cosmetic dermatological procedures, including surgical and non-surgical techniques, laser procedures, injectable fillers and botulinum toxins, body contouring, and leg vein treatment.
A Houston native, Dr. Jennifer Peterson is fellowship trained in cosmetic and laser dermatology and is certified by the American Board of Dermatology. She graduated magna cum laude from Texas A&M University and received her medical degree from Texas Tech University School of Medicine, where she was a member of the Alpha Omega Alpha Honor Society. Dr. Peterson completed an additional year of fellowship training in cosmetic surgery with the American Academy of Cosmetic Surgery in La Jolla, CA, following a year spent as a research fellow at the University of Illinois at Chicago Department of Dermatology and a three-year residency in dermatology at Texas Tech University School of Medicine. In her final year of training, Dr. Peterson served as Chief Resident of the Texas Tech University School of Medicine. She has been published in several journals and textbooks for dermatology and dermatologic surgery, in addition to being the recipient of several awards for her presentations in dermatology at conferences around the country. Dr. Peterson has also been involved in over 20 clinical dermatology, cosmetic dermatology, and cosmetic surgery clinical trials.
Located at the Memorial Hermann Medical Plaza, 6400 Fannin, Suite 2720 in Houston, TX, Dr. Peterson's practice, the Dermatology & Laser Surgery Center, can be reached at (713) 900-3900. She can also be contacted online via the website dermlasersurgery.com or facebook.com/paulfriedmanmd.
###