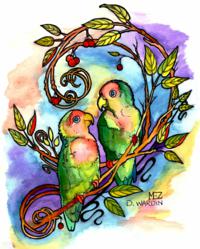 I called several other places in sf, and when I talked the piercers on the phone most were indifferent when I asked questions or were just jerks. I am so happy I went to Tattoo Boogaloo wonderful piercer
San Francisco, CA (PRWEB) September 13, 2011
Tattoo Boogaloo, of San Francisco, is offering their clients late summer and early fall savings on body piercing throughout September and October.
Piercings received from Tattoo Boogaloo are performed with attention to detail and a high level of quality. With combined experience of 17 years between piercers Katie and Deanna, Customers will be pleasantly surprised at the great discounts that are being offered through Tattoo Boogaloo's current special.
Interested clients are invited to come in for one piercing and get a second piercing for half the price or let the professionals at Tattoo Boogaloo choose the placement of their new piercing and receive $10 off. Tattoo Boogaloo is saying goodbye to summer and welcoming the fall with the best offer for those who want a little something new, or are thinking about getting their first body piercing. This special cannot be combined with any other offer, and you must be 18 years of age with proper ID to receive any service from Tattoo Boogaloo.
"I called several other places in sf, and when I talked the piercers on the phone most were indifferent when I asked questions or were just jerks. I am so happy I went to Tattoo Boogaloo [...] wonderful piercer and was helpful with all my questions made sure I got exactly what I wanted. Definitely going back again for piercings in the future, " said Cara M of San Francisco.
With Mez, Deanna, Chris and Katie's brilliant talents in body tattoo art and piercing, Tattoo Boogaloo is a very friendly place that will ease the minds of nervous first timers. They are available for walk-ins or appointments and offer consultations to discuss different designs.
Tattoo Boogaloo can be reached at (415) 391-1053 or visit http://tattooboogaloo.com/index.html to view the portfolios of the artists and their services. They are located at 528 Green Street, San Francisco, CA.
About Tattoo Boogaloo
Tattoo Boogaloo is a unique store in San Francisco that provides the best tattoo and body piercing services. Voted as AOL City's Best Tattoo Shop in San Francisco, they are composed of four artists that are all experienced and capable of providing the best body art with proper safety procedures for all interested clients.
###