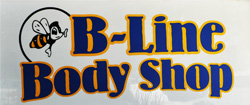 There are many repair facilities that can assist you in repairing your vehicle. At B-Line we cannot stress enough the importance of customer service in restoring your vehicle to pre-loss condition
San Jose, CA (PRWEB) November 08, 2011
B Line Body Shop, a full-service body shop in San Jose, is offering car owners expert advice on choosing the right body shop to repair their cars—one of the most important decisions to take note of after getting involved in an accident.
"There are many repair facilities that can assist you in repairing your vehicle. At B-Line we cannot stress enough the importance of customer service in restoring your vehicle to pre-loss condition. When choosing a repair facility, the most important thing is to make sure you are comfortable with the service they are providing. Always check out the shop to get a better understanding of what they do. After all, you will have to trust them with your investment," said Ryan Oka of B Line Body Shop.
During car accidents, car owners usually contact their insurance company who then directs them to a body shop. Car owners may think that the insurance company just saved them from all the hassles but it would be wise to do some research before handing their investment to a shop with which they are not familiar with. As car owners, they have the right to select the body shop of their choice.
When choosing a body shop, keep the following in mind. There is only one estimate needed at the shop they choose to have the vehicle repaired. Another tip for car owners is that they should always take their vehicle to the shop personally to get an estimate. Phone estimates or online estimates are not accurate, so it is better to personally ask a representative to take them for a tour of the facility. When talking to a representative of the facility, make sure that they are comfortable to deal with. Lastly, car owners should utilize the internet in searching online for the positive and negative reviews of the body shop they choose. Customer referrals and word of mouth go a long way in choosing body shops.
For more information about B-Line Body Shop, call 408-279-4500 or visit http://www.b-linebodyshop.com.
About B-Line Body Shop
B-Line Body Shop Inc. is a full-service San Jose collision repair center. The shop features state of the art technology and equipment to ensure that vehicles are repaired correctly and safely. B-Line Body Shop in San Jose has the capability to handle a car's auto insurance claim from start to finish, including estimations of repair costs, collision and dent repair, painting, removing scratches and more.
# # #