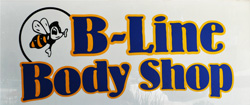 The holiday season can mean a lot of running around and sometimes not everyone is paying attention
San Jose, CA (PRWEB) November 24, 2011
With parking lots being crowded during the holidays, chances of dents and scratches from other drivers are more likely. Chips on front ends are also likely because of all the debris that litters the road during winter months. San Jose body shop, B-Line Body Shop offers expert advice on how to deal with them.
Door dings and dents often occur in parking lots. Most of the time there is no paintwork needed to fix the dent. There are many companies out there that can push out the dent depending on the size and access from the inside. This process is recommended and much more cost effective than the traditional repair and painting of the panel.
Scratches can also occur in parking lots. The first thing to do after noticing a scratch is to run a fingernail over it. If the scratch can't be felt, a light polish will be able to clean it off. If the scratch is deep enough to be felt, it is possible to remove it with a wet-sand and polish. Only if unsuccessful should the panels be repaired and refinished.
Debris picked off the road and thrown at vehicles by other vehicles could easily chip the paint. Keeping an eye on the chips may prevent rusting if those chips have reached metal. Simple steps would be to keep brush touch paint handy and dab a bit inside the chip on metal surfaces. If the chips are too numerous, the panels may need to be stripped and repainted.
"The holiday season can mean a lot of running around and sometimes not everyone is paying attention. Roads and parking lots become much more crowded and minor accidents or incidents may occur. If damage does occur, it would be wise to have a professional look at it to make sure there won't be any future problems with the panel," says Ryan Oka of B-Line Body Shop.
For more information on B-Line Body Shop, call 408-279-4500 or visit http://www.b-linebodyshop.com. B-Line Body Shop is located at 161 Patterson St., San Jose, CA 95112.
About B Line Body Shop
B-Line Body Shop Inc. is a full service automotive body shop and paint shop serving the San Jose area. It uses state-of-the-art technology and equipment to ensure that the vehicle is as safe as it was when it rolled off the assembly line. They accept auto insurance claims and provide estimations, collision repair, scratch repair, bumper repair, dent repair, painting, and other services.
###