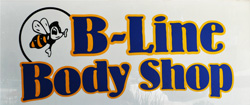 When restoring a classic car or modifying your daily driver, many people get caught up in the excitement after it's completed
San Jose, CA (PRWEB) December 22, 2011
The downward turn of the economy affects many aspects of people's daily lives. During these economic times, vehicles also depreciate at a greater pace than normal. B-Line Body Shop, a collision repair shop located at 161 Patterson St., San Jose, offers expert advice to ensure car owners have their modified or restored vehicles insured for the proper amount.
"When restoring a classic car or modifying your daily driver, many people get caught up in the excitement after it's completed," Michael Avery of B-Line Body Shop said. "They don't take a step back to look at the bigger picture. What if something happens to their vehicle, such as an accident, theft or fire? The insurance company will not cover all of the money they spent on the restoration or modification if it is not properly endorsed. Take the time to report modifications or have an appraisal done on your classic car."
B-Line Body Shop recommends considering the following items when insuring modified or restored vehicles.
First, know if modification is covered. In many cases, people like to modify their vehicles for performance or aesthetics. A number of insurance companies do not insure aftermarket modifications, nonetheless it is in your best interest to ask.
Second, Have the vehicle appraised. When a classic vehicle has been restored, the first thing the owner should do is hire an independent appraisal company. These companies can get comparable pricing for the restored vehicle.
Third, take pictures. Take a before and after photo to send to the insurance company when reporting modifications.
Forth, itemize all the work done on the vehicle. Provide the invoice to the insurance company so they can substantiate the amount of the item.
Even factory-endorsed modifications, such as bumpers or spoilers, can add value to vehicles. The value of the vehicle can make the difference between becoming a repairable or a salvaged vehicle.
B-Line Body Shop accepts auto insurance claims and provides estimations, collision repair, scratch repair, bumper repair, dent repair, painting and other services.
For more information on B-Line Body Shop and its products or services, call 408-279-4500, view them on the web at http://www.b-linebodyshop.com or visit B-Line at 161 Patterson St., San Jose, CA 95112.
About B-Line Body Shop
B-Line Body Shop is a full-service automotive body shop and paint shop in San Jose that offers to return vehicles to like-new specifications. They use state of the art technology and equipment to ensure that the vehicle is as safe as it was when it first rolled off the assembly line. All painting is color matched to the individual vehicle using computerized paint mixers. This high-tech equipment provides a level of detail and accuracy that is unmatched by any other method.
###