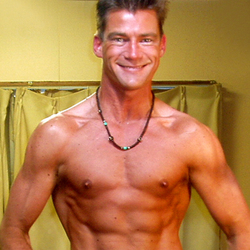 You will be held accountable for your actions - your training, your nutrition and your lifestyle - every day, like never before. And you will document your journey to leanness in writing. Every day means in
Hoboken, NJ (PRWEB) April 30, 2009
The health and fitness industry just received a major wake-up call. Or, as they say in boxing world, the industry is about to get its "bell rung."
Together, Adam Waters and Tom Venuto, two internationally acclaimed fitness and weight loss experts on separate continents have launched the first ever Real Time Physique (RTP) Transformation Contest.
As Adam Waters shared, "What happens with most weight loss or fitness program? With commitment comes progress. But without an accountability component, a "mission statement" and a daily plan, long-term success is often a pipe dream. The RTP approach of daily performance and total transparency makes this a real game changer."
A glance at the contest rules reveals that The RTP Body Transformation Contest goes far beyond transformational contests like "Body for Life" or the current television program "The Biggest Loser" in both documentation and transparency.
The RTP Body Transformation Contest "raises the bar" on accountability with 12-week fitness challenges. As Tom Venuto, the co-developer of the contest, added, "You will be held accountable for your actions - your training, your nutrition and your lifestyle - every day, like never before. And you will document your journey to leanness in writing. Every day means in "real time." It's not just a before and after photo competition (two photos). It's 84 days of daily blog entries and photos!"
Both Waters and Venuto strongly believe health and fitness success begins and ends with the right mindset. For example, they believe it's essential to create a positive, empowering "frame" that inspires both action and results. That's why Waters went against popular convention and refused to call his protégé's "fatbloggers" or "biggest losers."
As Venuto further explains, "Adam refers to himself as a "Shredder." Shredded is a code word for extremely low body fat. You see, there's lean, then there's ripped, then there's shredded."
The "Shredder" meme took off and Waters has now built an online community of fitness participants that boasts over 500 members, many of which document their "Shredder Journey" towards ultimate fitness.
Once The RTP Body Transformation contest winners are announced, (one male and one female) each will receive 10 prizes including:

Round trip coach class airfare to New York City ($1500 value)
2 Nights At W. Hotel Hoboken with Views Overlooking Manhattan Skyline
$500 US spending money
Training Session with Tom Venuto and Adam Waters in New Jersey
Professional Photo Shoot with Tom Venuto and Adam Waters
Dinner and a Broadway show in New York City with Tom Venuto and Adam Waters
Luxury transport to each location on "Event Day" (August 8, 2009) will be provided by Tom Venuto's "Burn The Fat Mobile"
"Time Lapse" Video documenting the winner's 84-day body transformation custom produced by Adam Waters
"Success Story" featured in the RTP Transformation System 2.0 Digital Package due for release in late 2009
Participants can enter the RTP Body Transformation Contest from any country in the world, as long as fitness competitions with cash prizes and awards are legal in their country, province, state or city. The challenge is not a random drawing, but a contest requiring judges and documentation of performance. Entrants must own the RTP System to qualify. Full contest FAQs and details are available at: http://www.RTP-System.com . Deadline for entries is midnight pacific, April 30, 2009.
Both Adam Waters and Tom Venuto are available for media interviews and expert quotes. Venuto, author of the "The Body Fat Solution, has appeared in Oprah Magazine, The Wall Street Journal, on Martha Stewart radio and over two dozen other media outlets. Waters has received media coverage from Men's Fitness Magazine, Japanese television stations and has the #1 video for weight loss on YouTube.com, having been viewed nearly 5,000,000 times. To learn more about Adam Waters, Tom Venuto and the RTP Transformation Challenge, visit: http://www.RTP-System.com .
ABOUT ADAM WATERS:
Adam Waters started his 900-day journey depressed and overweight. Today, he offers positive proof of a dramatic transformation in appearance, lifestyle and income. Author of the RTP System for weight loss and ultra fitness performance, Waters operates the RTP Blog, the most popular real time fitness blog of all time. While never spending a cent on advertising Waters has the most viewed "weight loss" body transformation videos in Internet history on both YouTube.com and Google Video.
AND TOM VENUTO:
Tom Venuto is an internationally recognized fat loss expert, nutrition researcher and natural (steroid-free) bodybuilder. Since 1989, Venuto has been involved in virtually every aspect of the fitness and weight loss industry - as a fitness coach, nutrition consultant, motivation coach, fitness model, health club manager, freelance writer and bestselling author of the popular e-book, "Burn The Fat, Feed The Muscle." His articles and syndicated columns can also be seen on hundreds of websites worldwide. Venuto's digital newsletter is read by over 260,000 email subscribers every week.
http://www.RTP-system.com
###