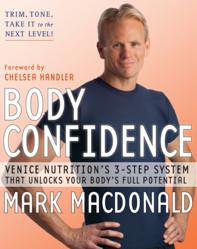 After spending an hour with Mark, I realized how little I knew about food, and how many bad habits had been formed from my childhood in New Jersey."
— Chelsea Handler, from the Foreword of BODY CONFIDENCE
San Francisco, CA (Vocus/PRWEB) March 31, 2011
"I met Mark Macdonald three weeks before my twenty-seventh birthday, and he changed my life forever. I was sick of starving myself and never losing any weight, and not exactly open to the idea of cutting alcohol out of my life. After spending an hour with Mark, I realized how little I knew about food, and how many bad habits had been formed from my childhood in New Jersey."
— Chelsea Handler, from the Foreword of BODY CONFIDENCE
Diets fail. They leave people hungry, lethargic, and miserable—and after a cycle of yo-yoing, dieters often end up heavier than they ever were.
Nutritionist, personal trainer, and fitness model Mark Macdonald grew frustrated with the ever-changing hype and false information pervasive in the fitness and weight loss industries. His personal experience, and that of his wife, mother, and others in his life, was his inspiration for founding Venice Nutrition, a fitness program with over 350 centers across America that has helped hundreds of thousands of people—including his friend and client Chelsea Handler—achieve their weight and fitness goals. Now, with Macdonald's first book, BODY CONFIDENCE (April 2011; HarperOne), readers can understand how to get into the best shape of their lives without superhuman willpower or obsessive exercising.
The key, Macdonald reveals, lies in stabilizing blood sugar levels within an optimal range, because doing so prevents your body from storing fat or burning muscle. This state of balance is essential for losing fat and gaining the lean body mass that turns the body into a calorie-burning machine. Balanced blood sugar will also cure the body of the hunger pains and cravings that can easily derail dieters.
BODY CONFIDENCE reveals that stable blood sugar can be achieved through three key nutrition factors:
1. Meal intervals—The body needs to be fueled constantly and consistently. The best way to achieve this is to eat small and balanced meals every three to four hours, including a small meal within one hour of waking and within one hour of going to sleep.
2. Nutrition ratios—Protein, fat, and carbohydrates are the three nutrients essential for survival. In the correct ratios, they keep the body in a state of balance or homeostasis.
3. Calories per meal—The body can only process a certain amount of food at once. A person should never be starving before a meal, and should never be completely full after.
Mark Macdonald has guided thousands to achieve their ideal body without resorting to risky fads, full-time exercise regimes, or deprivation or any sort. BODY CONFIDENCE is full of inspirational 'before-and-after' photos of female and male clients, all of whom achieved amazing results regardless of their body types or specific goals. The book also includes recipes for each of the various goal types identified to guide readers to optimal foods and high quality ingredients vital to the BODY CONFIDENCE plan.
Exercise is important, but Macdonald says it's not necessary to spend hours in the gym; rather, the goal should be efficient exercise. He describes two distinct kinds of cardio: fat burning (aerobic activity over a prolonged period) and high intensity (short periods of extreme exertion), each requiring different sets of muscles. How to balance sleep, nutrition, exercise, vitamins/minerals, water, and stress is also addressed.
Finally, Macdonald writes, "You are what you metabolize." Everyone also has different goals: some of us strive only to lose body weight / fat and tone up, while others may desire to gain weight, increase strength, and build muscle mass. Regardless of your goals, you won't reach them with silly fads or quick fix promises or sustain them without blood sugar stabilization. BODY CONFIDENCE is the program for anyone who seeks to break the cycle of crash dieting and willpower-driven exercise programs, and embark on a smart, sustainable plan to achieve the body they've always wanted.
About the Author:
Mark Macdonald, NC, CPT, is the CEO and creator of Venice Nutrition. He opened the first Venice Nutrition Consulting Center in Venice Beach, CA, and it has since developed into a network of more than 350 centers across the United Station. Macdonald lives in Atlanta with his wife Abbi and their son Hunter. Visit him online at venicenutrition.com.
BODY CONFIDENCE
Venice Nutrition's 3 Step System That Unlocks Your Body's Full Potential
By Mark Macdonald
HarperOne, an Imprint of HarperCollins
On Sale April 2011 | $26.99 | Hardcover | 9780061997273
Also Available as an eBook: 9780062078698
# # #