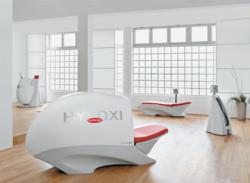 Charlotte, NC (PRWEB) August 30, 2012
With 75 percent of Americans actively seeking weight loss solutions, only 29 percent of those people would consider going under the knife an option. Now the HYPOXI-Method®, a system of targeted cosmetic body forming through advanced vacuum technology, offers a safe, natural alternative to plastic surgery for those who aren't getting the results they want from diet and exercise alone.
The Austrian-based body shaping company debuted in the U.S. in 2010 as HYPOXI America, LLC and now has four thriving licensee-owned locations in Ballantyne, N.C.; Orlando, Fla.; Sugar Land, Texas; and its most recent opening in downtown Houston. Weight loss services are a booming $2.7 billion industry in the U.S., with enormous growth potential. As a result, HYPOXI recently launched a franchise program to expand their concept nationwide.
"With all the focus on appearance in our society, it isn't surprising that Americans are constantly looking for an effective weight-loss solution to meet their needs," said Edwin Grempels, president of HYPOXI America, LLC. "The late Dr. Norbert Eggers developed the HYPOXI system based on years of research and we have since grown into the world market leader of body shaping equipment in over 40 countries. We're looking forward to expanding this innovative weight loss technology and are confident that Americans will be just as enthralled as others around the world who have already had a chance to experience HYPOXI."
HYPOXI's unique weight loss system combines a vacuum treatment (like cupping), compression therapy and fat burning exercises to promote circulation in areas of the body that store fat. The hips, stomach, buttocks and thighs – some of the biggest problem areas for those trying to lose weight – tend to have poor circulation. The HYPOXI system targets these areas on the body to generate blood flow, eliminate fluid retention and accelerate fat loss. With regular treatment of fat burning combined with targeted circulatory activation, HYPOXI users can lose up to two dress sizes in five weeks.
An independent study by the Medical Prevention Centre Hamburg (MPCH) released in January 2011 found similar results. MPCH concluded that "the targeted reduction of body fat in 'problem zones' is achieved better with HYPOXI than solely with conventional training." Women who used the HYPOXI-Method® lost an average of 13.1cm around the "problem areas" compared to 4.8cm, the average circumference lost by women who used conventional weight loss methods.
Austrian sports scientist Dr. Norbert Egger, who passed away in 2008, first formed the idea for targeted weight loss when he noticed that women in his fitness and health studio in Salzburg had trouble losing weight in the hips, thighs, stomach and buttocks, even with a modest diet and regular exercise. His experience as a sports scientist prompted experimentation with improved circulation, and he created the first HYPOXI prototype in 1997.
"Seventy-five percent of the population will proclaim they are dissatisfied with their bodies," said Grempels. "And the vast majority say they want a natural solution rather than cosmetic surgery. HYPOXI is different—users can lose inches and improve their skin naturally in a comfortable, high-end environment, and that's what makes HYPOXI a business concept with a great future in America."
With no direct competitors, HYPOXI's unique, patented technologies give it a durable advantage in the weight loss and body shaping industries. Since 85 percent of American consumers who purchase weight loss products and services are women, the company's targeted demographic includes women ages 30 to 60 in the higher income bracket, however the method is available to men as well. HYPOXI studios offer natural weight loss and skincare services with four main machines: the Trainer S120®, Trainer L250®, Vacunaut® and PressureSuit® and the HYPOXI Dermatology Comfort® (HDC).
While HYPOXI users undergo treatment, they are also encouraged to maintain a healthy, balanced diet.
"There is no shortage of health benefits for losing body fat," said Grempels. "With the HYPOXI-Method®, we encourage users to live a holistic, healthy lifestyle while we help them with their problem areas."
The HYPOXI Studio works as a stand-alone business or can be incorporated into other beauty and wellness locations like cosmetic studios, day spas, fitness centers, hotels, wellness clinics or detox clinics. The average stand-alone studio ranges from 1,500 to 2,500 square feet. The initial franchise investment ranges from $202,090 to $496,165, including a $35,000 franchising fee. Experience managing and motivating staff is a plus for prospective franchisees, but a background in the spa or fitness industry is not required to be successful. Domestic growth will come via both single and multi-unit sales. The company expects to open five franchised locations by the end of 2012 and an additional 50 to 100 locations by 2017.
"This is a great ground-floor opportunity for those looking to break into the rapidly growing weight-loss industry," said Grempels. "Franchisees can open their own stand-alone HYPOXI Studio focusing strictly on the HYPOXI-Method® or incorporate our patented technology into their existing beauty or wellness center as an added service to their clients."
Franchisees are trained in startup, marketing and onsite training with both classroom and hands-on styles. Onsite training includes proprietary treatments, client counseling, coaching, nutrition and sales.
HYPOXI America offers additional training programs for franchisees six months and one year after opening. In the near future, the corporate headquarters will launch HYPOXI Library®, giving franchise owners access to an online warehouse of instructional webinars, marketing and profitability resources, customizable ad campaigns and a blog for franchisees to communicate with one another.
For more information about franchise opportunities or the HYPOXI Method, visit http://www.hypoxi.net.